15 Best Things to Do After Dinner in Brighton
Where to Go at Night in Brighton
Looking for what to do after dinner in Brighton? One thing for sure is that Brighton's nightlife promises a fun night out with hundreds of venues. You can find Olde English pubs that go back centuries, along with modern bars, restaurants, nightclubs, and casinos.
This list shows you the best places to go at night in Brighton. Whether you're looking for partying right on the beach, a pub crawl through the town's lively nightlife districts, or simply a break after a day out on the coast, Brighton's well-varied nightlife scene will hardly disappoint.
1
Brighton Palace Pier
Stroll the boardwalk while eating an ice cream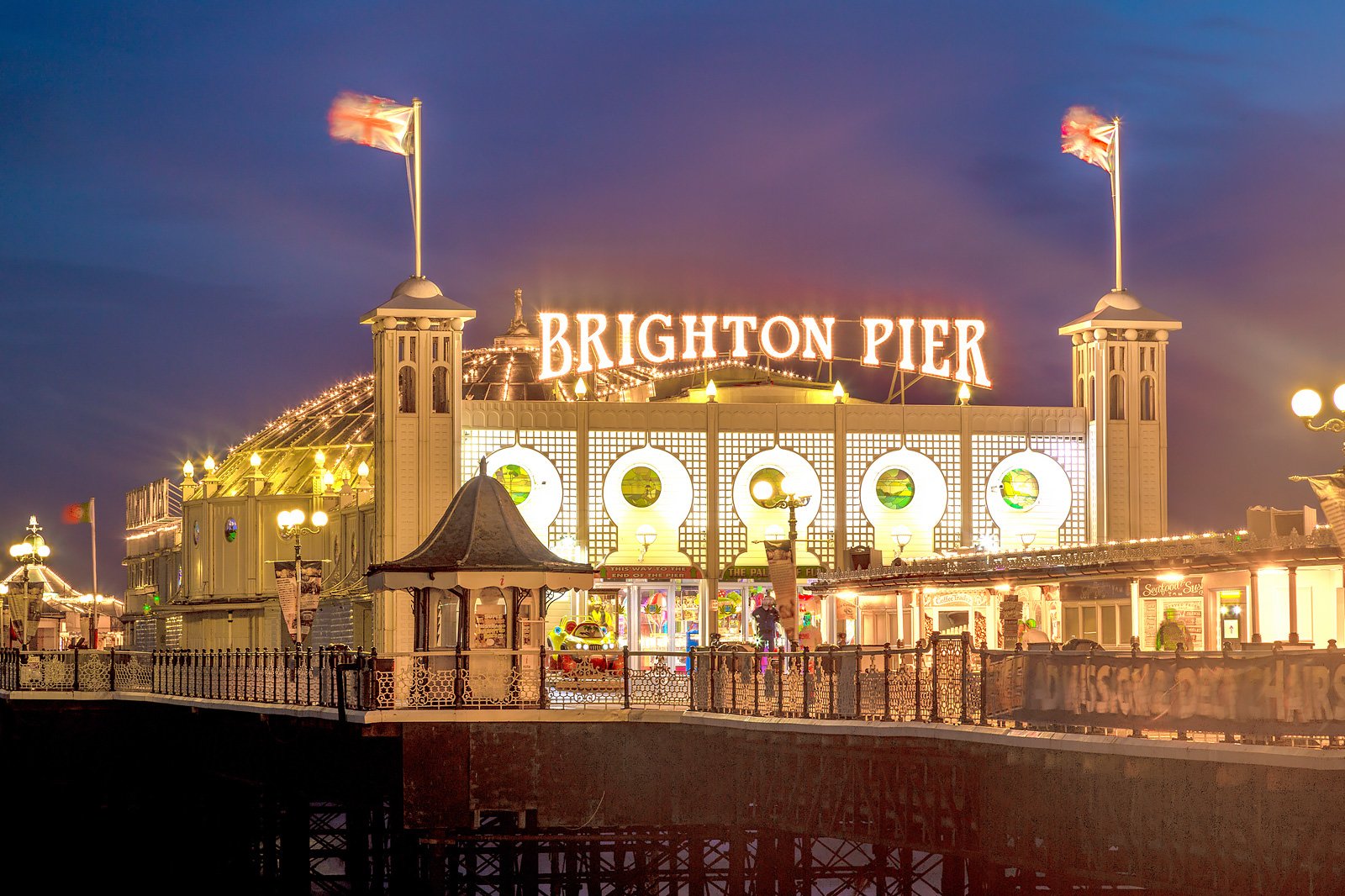 Families
History
Photo
Budget
Topped by fluttering Union Jacks and lit up in lights every evening, Brighton Palace Pier is a classic snapshot of a British seaside attraction. The wooden boardwalk is a bustling place to be, with everyone from families to old couples enjoying the carnival atmosphere.
You can play some games in the amusement arcades, get dizzy on the fairground rides, and pick up some ice creams, doughnuts or sticks of rock from a whole row of stalls.
Location: Madeira Dr, Brighton BN2 1TW, UK
Open: Daily from 10 am to 10 pm (closes at 5 pm in winter)
Phone: +44 (0)1273 609361
2
Barhopping in Kemptown
One of Brighton's liveliest nightlife landscapes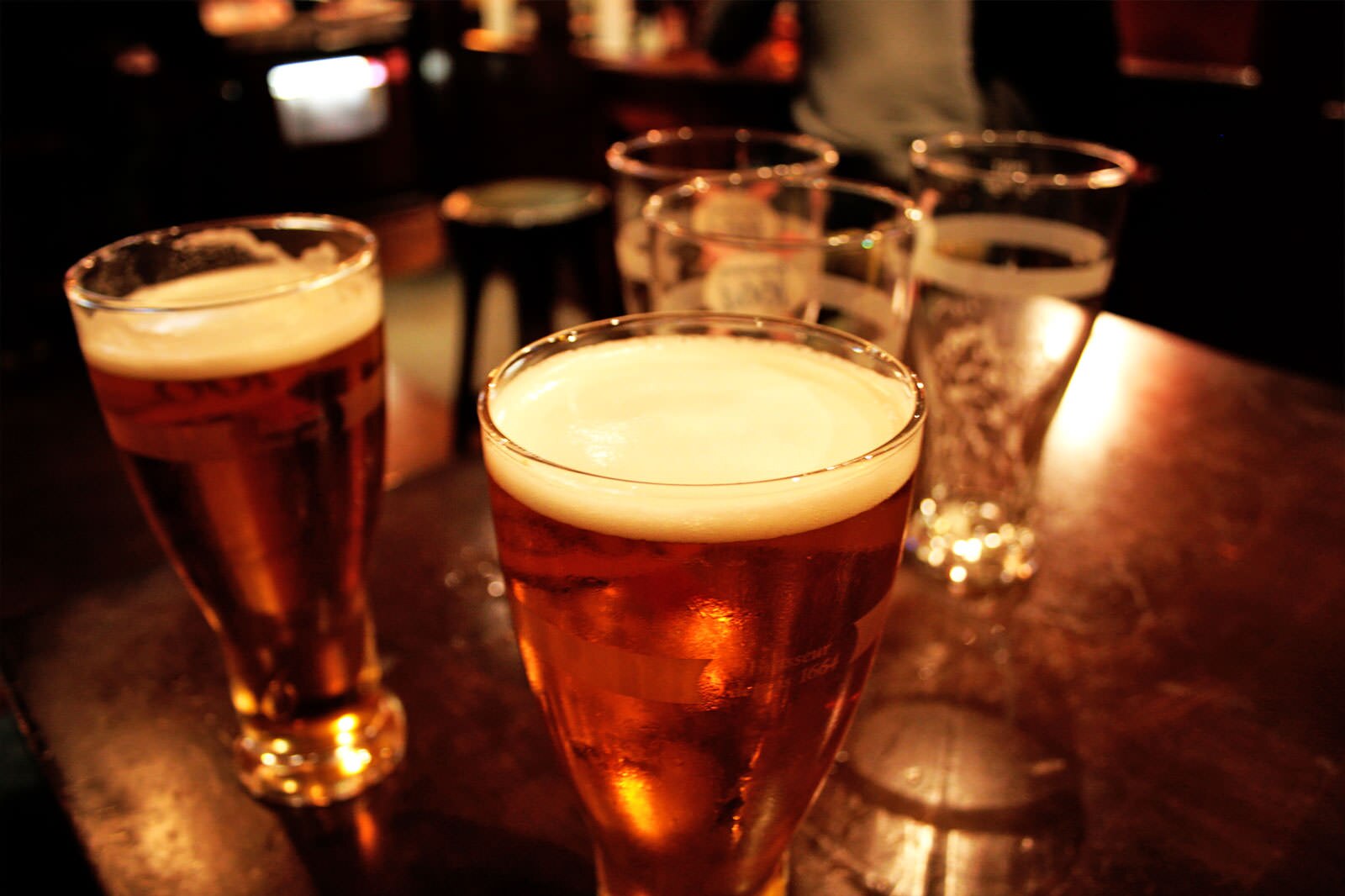 Kemptown is the hub for bold evening escapades in Brighton. It's the epicentre of Brighton's 'gay village' scene with an eclectic row of bars that offer a mix of games, cabarets, and karaoke besides fancy tipples. Many of them are LGBT-friendly venues with regular drag gigs thrown in for good measure.
For a night out with great cider choices and grooves set by basement DJs, Black Dove is a local favourite near the upper end of St. James's Street. Then, swerve into any of the parallel avenues leading to Marine Parade to find hotspots like The Plotting Parlour on Steine Street or Brighton Rocks, a local legend where burlesque shows and live music complement classic cocktails in a subtle vintage setting.
Location: Kemptown, Brighton, UK
Open: Hours vary by venue
3
The Lanes
Grab a pint at traditional, century-old venues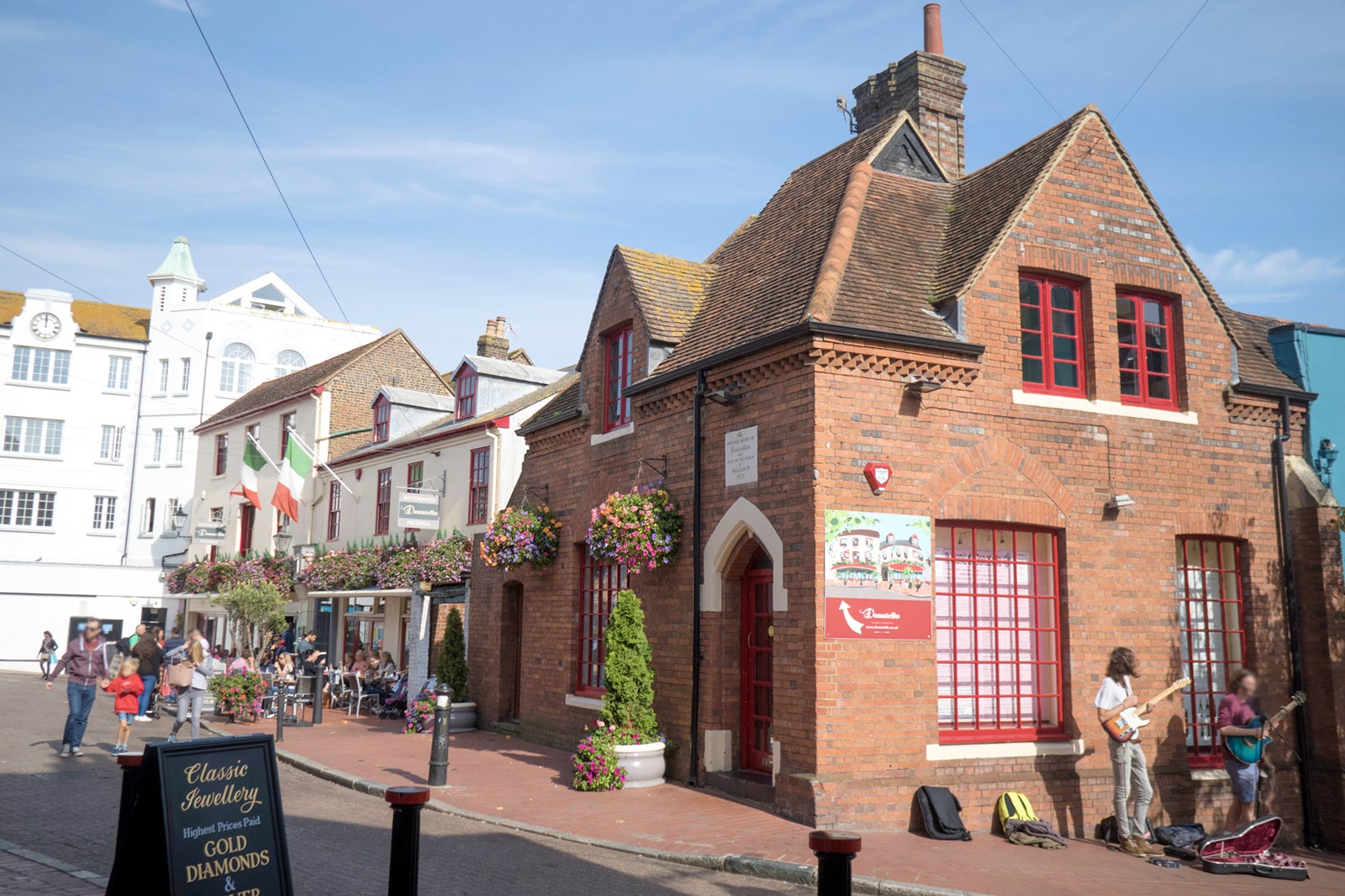 The Lanes is the place to go for a memorable pub crawl in Brighton. This warren in the centre of town was once the hub of an old fishing town. It spans between the famous West Street – known for its varied selection of traditional pubs, bars and restaurants – and East Street.
Smack-dab in the centre of The Lanes is a collection of traditional pubs that date back centuries. On Meeting House Lane is Bath Arms, which has been serving top-quality real ales since 1868. Just up from the pub is The Pump House, where you can find cask ales and medieval cellars. At the larger and more modern The Font, live DJs liven up the atmosphere on weekends.
Location: The Lanes, Brighton, UK
Open: Hours vary by venue
photo by Jwslubbock (CC BY-SA 4.0) modified
4
Brighton's seafront nightclubs
Party on the waterfront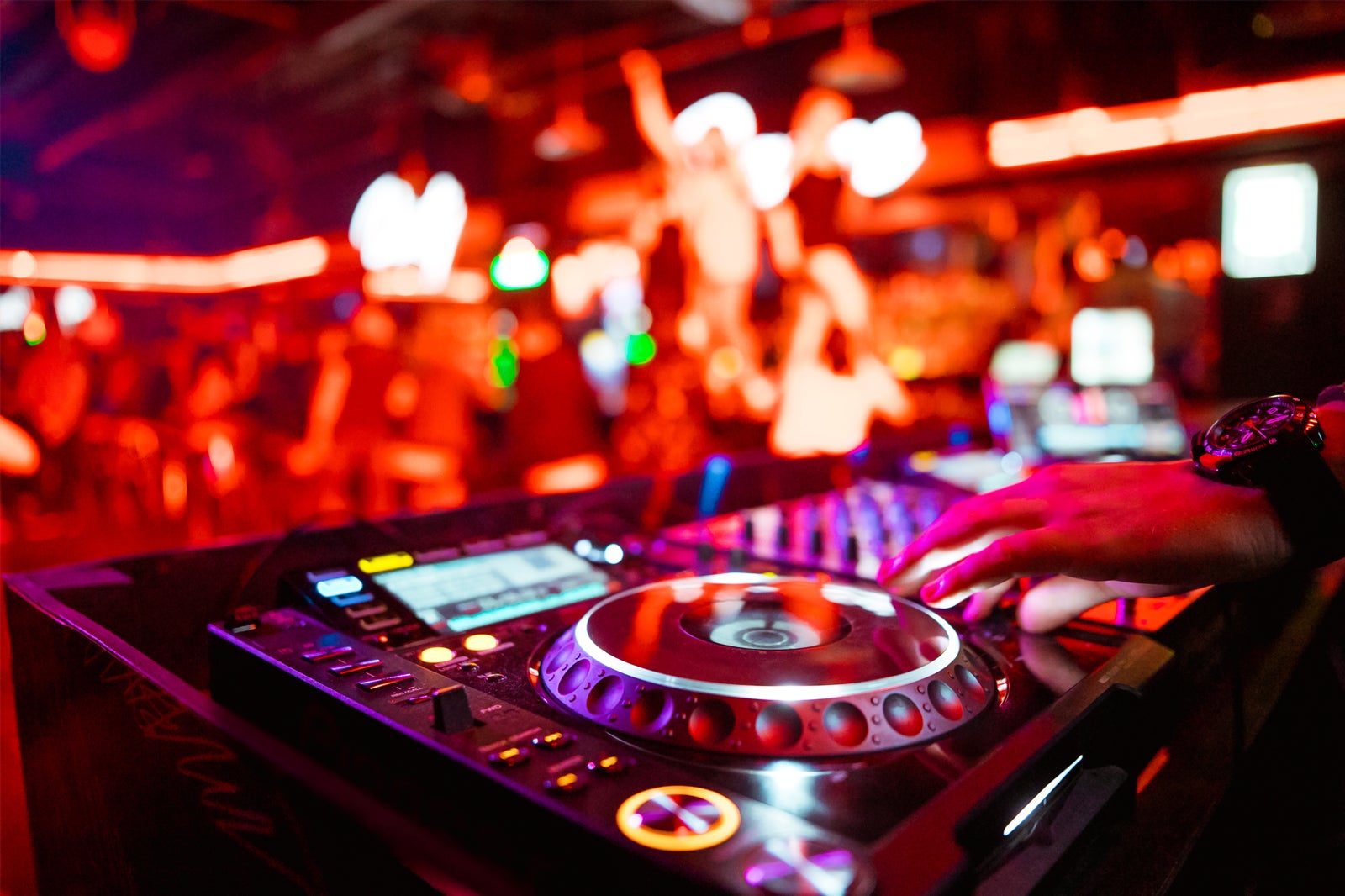 Brighton is blessed with a wide pebbly coast, where the town's nightlife scene flows onto with its collection of seafront nightclubs. By day, these venues are excellent places to soak up the sun and take in the coastal views. By sunset and beyond, the venues' DJs put on their best tracks ranging from hip-hop and reggaeton to house and dubstep on certain evenings throughout the week.
There's quite a selection to choose from for partying out on the beach in Brighton. There's the legendary seafront nightclub Coalition, as well as the petite but lively Volks Club right on the beach. Across the promenade from the sand but still overlooking the coast is the cavernous Shooshh where you can expect VIP booths and services.
5
Brighton Music Hall
Enjoy live music while overlooking Brighton Beach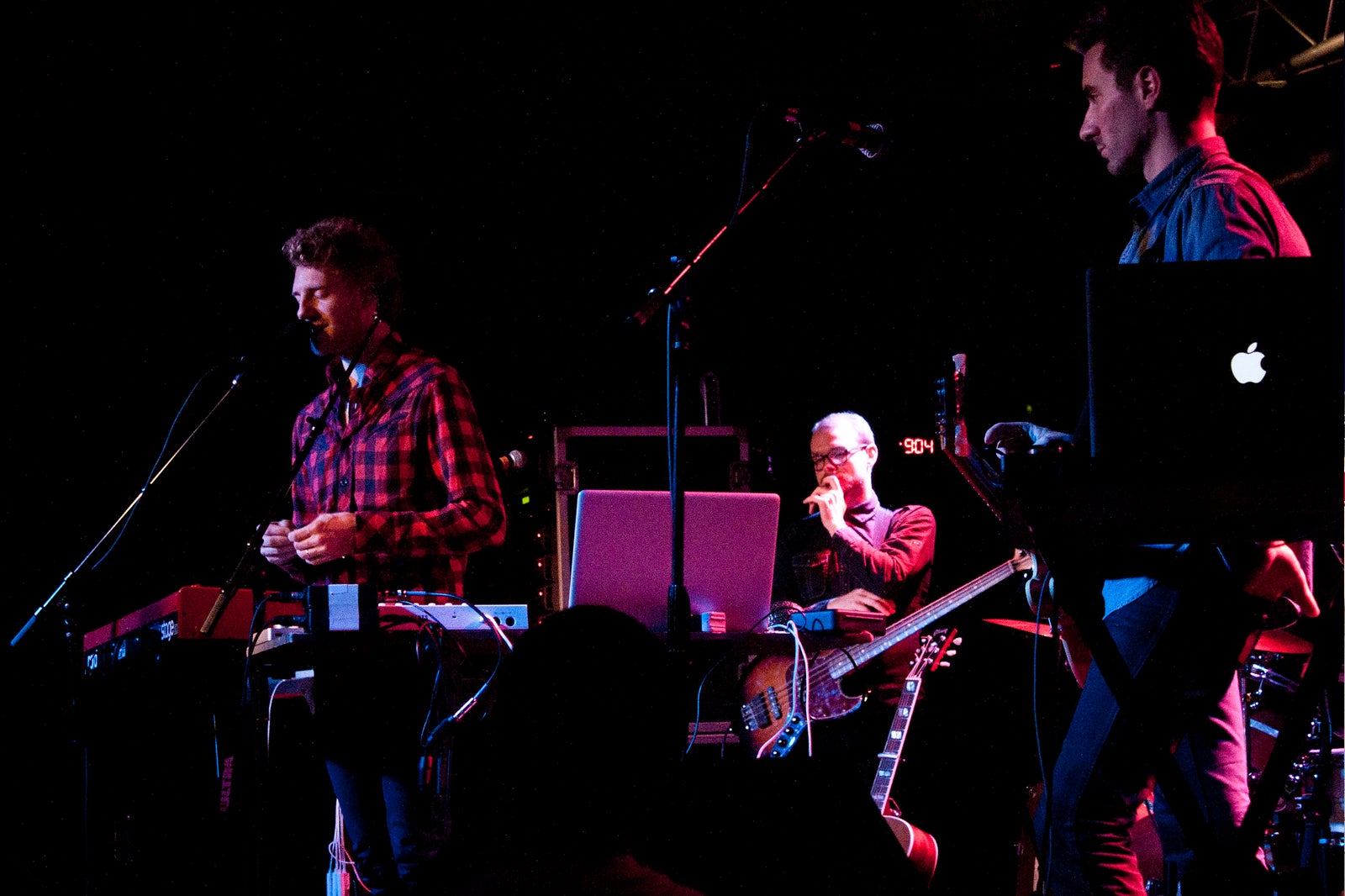 Brighton Music Hall is centrally located on Brighton Beach, snug in the iconic Victorian seafront arches of Kings Road and overlooking the coast. A roster of Brighton's top music talents regularly performs on its stage. You can sit back and relax om comfy seats with a pint of cold draught beer or cider.
Its onsite bar offers a selection of mojitos, daiquiris and wine, as well as homemade nibbles such as mac and cheese, burgers, and firecracker chicken. People often end up here by strolling along the beach, getting drawn in by the cool live performance, and staying on for a drink.
Location: Kings Road Arches, 127, Brighton BN1 2FN, UK
Open: Sunday–Wednesday from 10 am to 8 pm, Thursday–Saturday from 10 am to 1 am
Phone: +44 (0)1273 747287
6
The Mesmerist
Settle for a cocktail at this retro lounge bar
The Mesmerist in The Lanes is well known for its retro, speakeasy vibes. This stylish lounge bar has 3 floors – each with their own individually styled spaces where you can fill up with good pub classics alongside craft cocktails.
Head upstairs to their hidden bar, The Flipside, where you can expect more from their list of quirkily named drinks. These include a peachy pina colada called God Save the Cream, a twist on the classic negroni called Love Buzz, and a sazerac called Luke Ryewalker to further transport you into 'a galaxy far, far away' with every sip.
Location: 1-3 Prince Albert St, Brighton BN1 1HE, UK
Open: Daily from noon to 1 am
Phone: +44 (0)1273 328542
7
The Prince Albert
A Brighton pub with an unmissable mural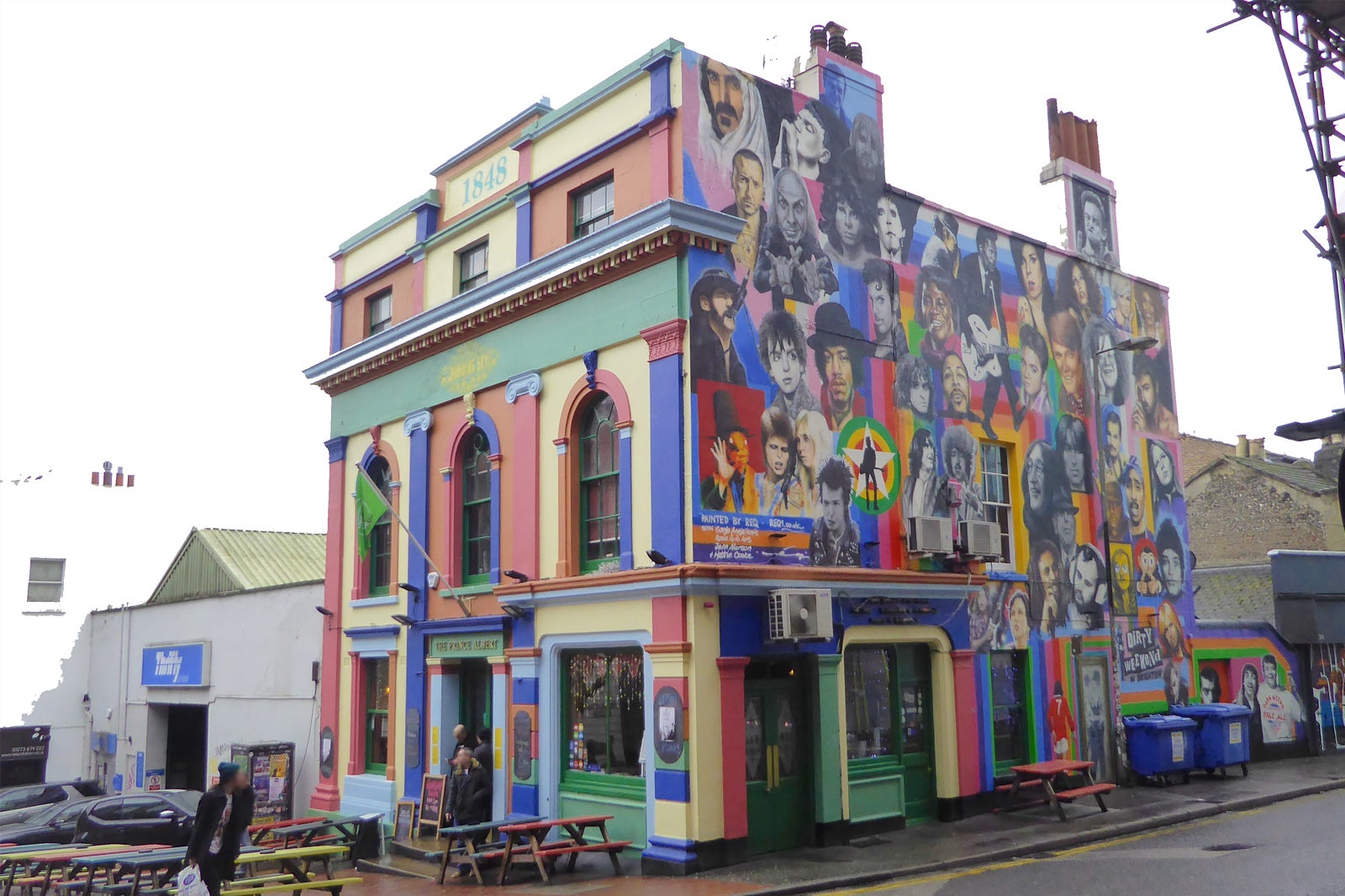 The Prince Albert in North Laine Bazaar is one of Brighton's nightlife institutions, known for its mural that is just as iconic as it is Instagrammable. During an evening out at this legendary pub, you can expect regular live gigs featuring top local talents performing from vintage British funk and soul to bouncing glam-punk.
Choose from its great selection of beers, ciders, and shots. On tap, there's a cool variety of British craft ales and ciders worth trying, such as Burning Sky and Orchard Pig. Their mural – filled with the stylised faces of legends like Freddie Mercury, Lennon, Marley, and Hendrix – is lit and just as mesmerising after dark.
Location: 48 Trafalgar St, Brighton BN1 4ED, UK
Open: Sunday–Thursday from noon to midnight, Friday–Saturday from noon to 12.30 am
Phone: +44 (0)1273 730499
photo by Ethan Doyle White (CC BY-SA 4.0) modified
8
Black Lion
For a late night out at one of Brighton's oldest pubs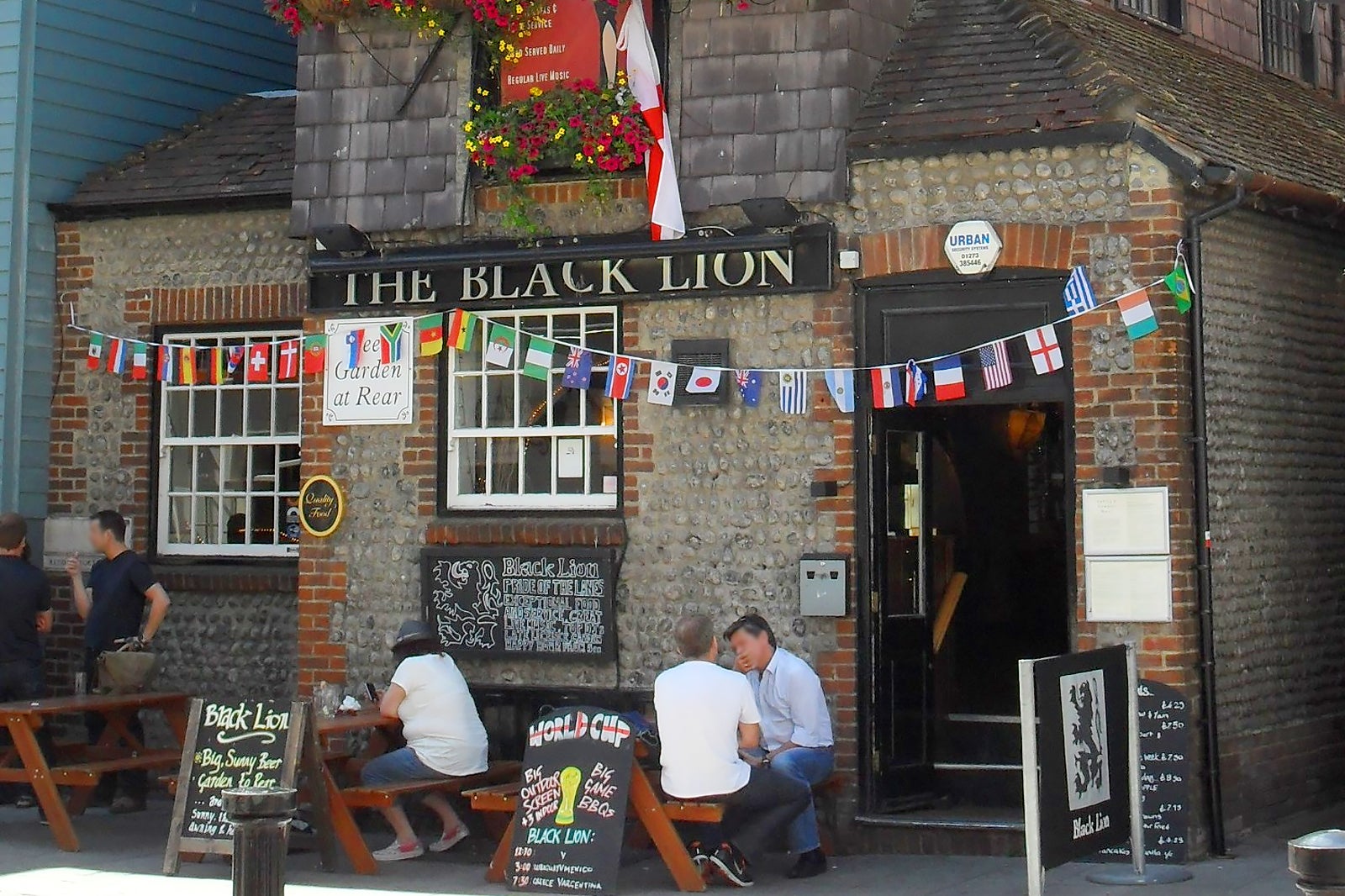 Black Lion is considered Brighton's oldest pub, though that title has been a subject of dispute for years, shared by the Victorian-era The Cricketers Pub on the same street. However, locals believe that the pub has been around earlier for a century, since 1455. Disputes aside, it's one of the go-to's for a cool night out.
Step inside the Olde English establishment to find large sharing benches with a cosy outside area with heated booths. Black Lion's top-class, affordable cocktails are also main draws, with must-tries such as the Cucumber and Elderflower Collins with Brighton gin, and a Pornstar Martini made with passion fruit and pineapple.
Location: 14 Black Lion St, Brighton BN1 1ND, UK
Open: Sunday–Wednesday from noon to 1.30 am, Thursday from noon to 2 am, Friday and Saturday from noon to 3 am
Phone: +44 (0)1273 711884
photo by Hassocks5489 (CC0 1.0) modified
9
Proud Cabaret Brighton
For a glam night out with stunning performances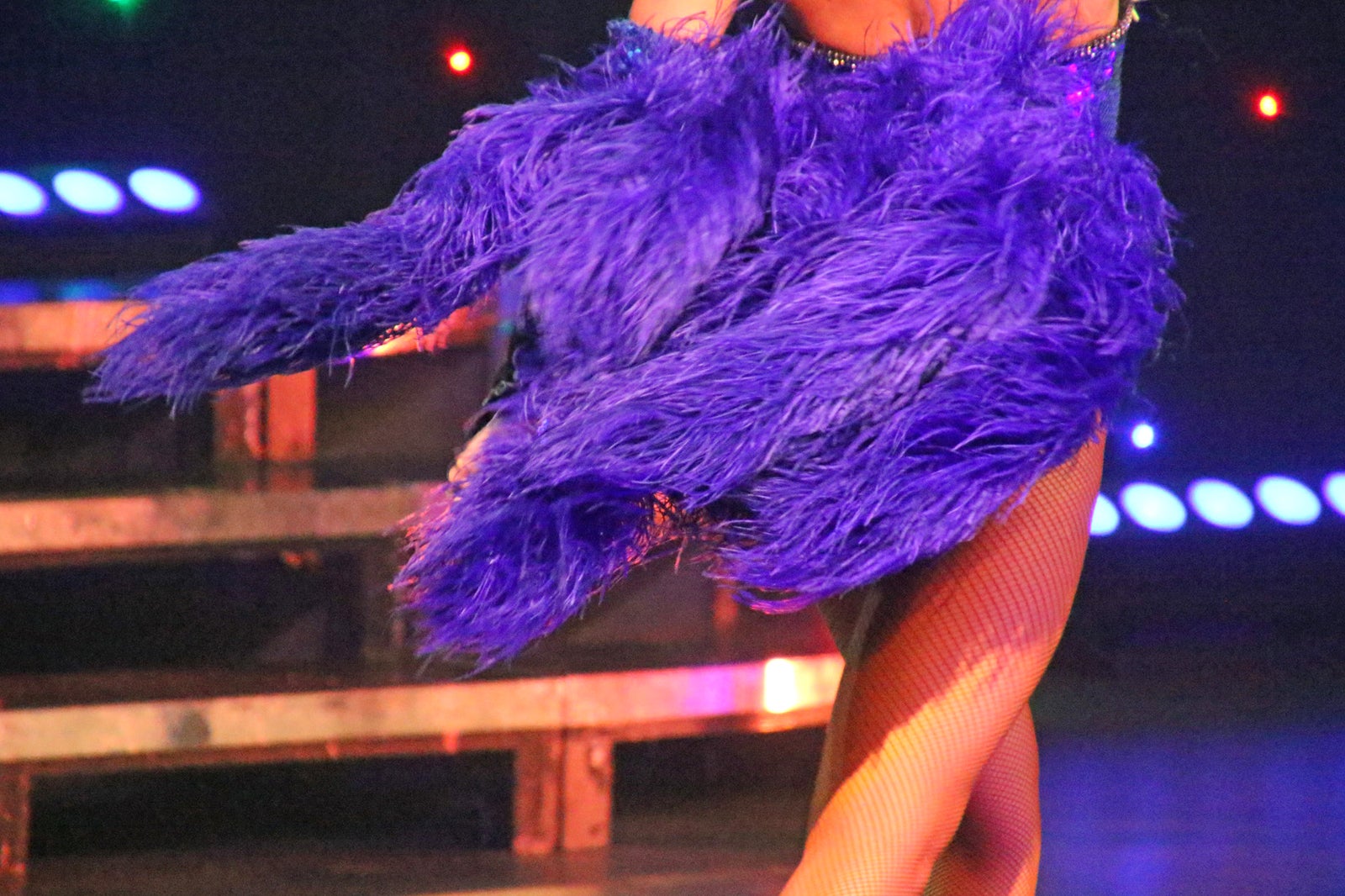 Proud Cabaret Brighton is a retro-style bar and restaurant with a dancefloor in the heart of the fabulous gay village of Kemptown. You enter a den that's straight out of the Roaring Twenties – the gilded venue itself is loaded with history, once a mausoleum, a boxing club, and a ballroom. Now, it's a go-to for special dinners out with top entertainment presented by highly talented performers.
Some of the shows feature Europe's biggest cabaret stars, boasting powerful vocals and burlesque beauties in stunning costumes. The theatricals often include aerial and fire dancers and fire breathers.
Location: 83 St George's Rd, Kemptown, Brighton BN2 1EF, UK
Open: Thursday from 6.30 pm to 8 pm, Friday from 6 pm to 2 am, Saturday from 6.30 pm to 3 am
Phone: +44 (0)1273 605789
10
Pier Nine
A date out with lady luck on the Brighton seafront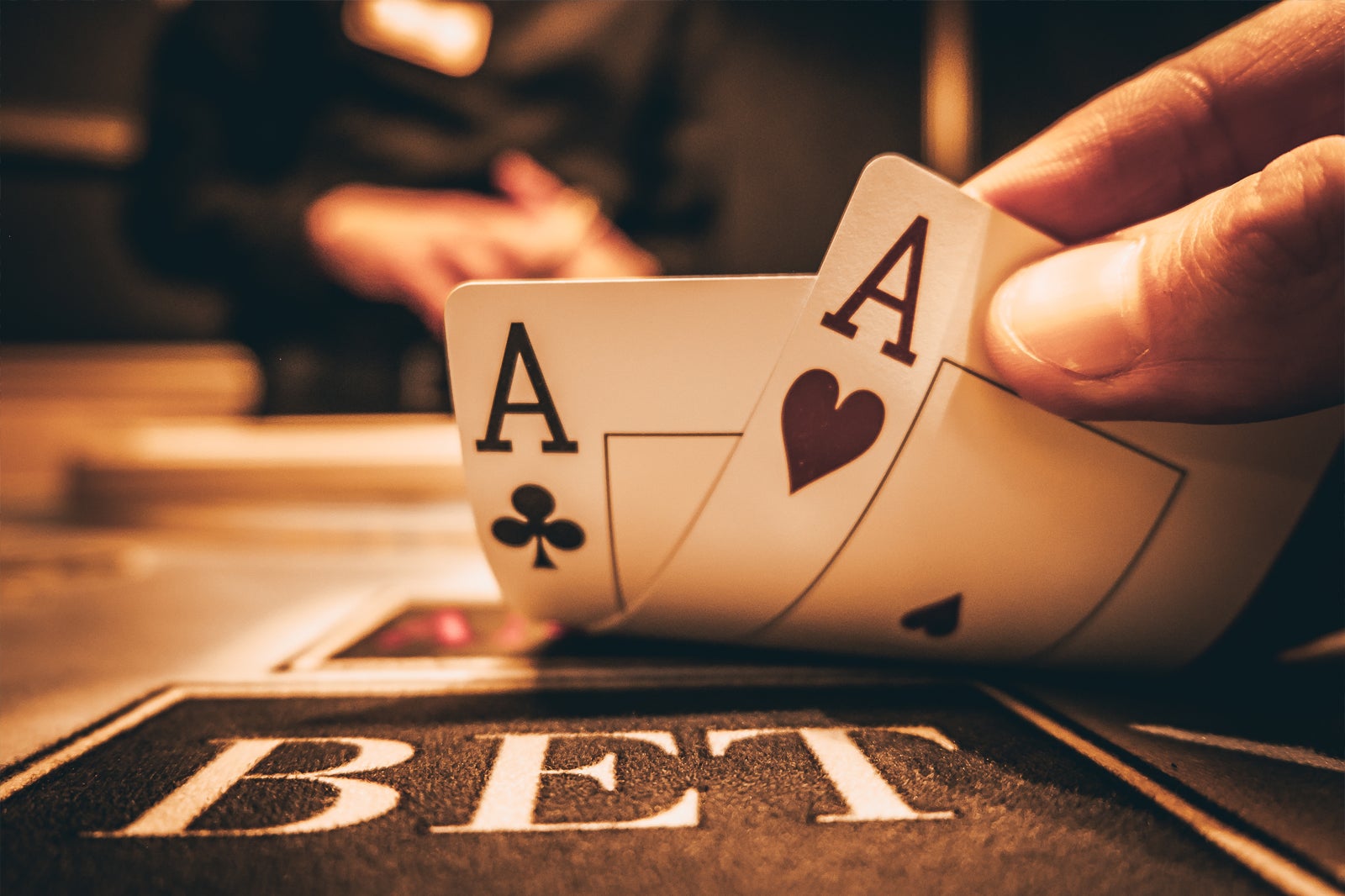 Pier Nine is a modern casino gracing Brighton's seafront, which has gaming tables and slot machines, as well as a restaurant and bar. At some point in time, it was known as the old Grovesnor Casino, which featured a more traditional style.
Now slick and modern but retaining its former Art Deco cinema frame to a certain degree, Pier Nine offers 3 floors decked out with classic and retro casino games, as well as the latest digital gaming options. Open around-the-clock, it can be a nice diversion for when the clubs close their doors for the night but you still have several hours – and cash – to spare.
Location: 9 Grand Jct Rd, Brighton BN1 1PP, UK
Open: 24/7
Phone: +44 (0)1273 326514
11
Watch a show at Brighton Dome
See Brighton's best performance art in a beautiful theatre
Brighton Dome Concert Hall is a Victorian theatre that hosts a variety of live shows. Live bands and stand-up comedy are the biggest draw here, and with 3 different stages, chances are you'll have a choice of what to watch. It's easy to find Brighton Dome as it shares the Pavilion Gardens with the Royal Pavilion. Throughout May, the Brighton Fringe Festival comes to town and the Brighton Dome hosts numerous exciting performances.
Location: Church St, Brighton BN1 1UE, UK
Phone: +44 (0)1273 709709
12
Ghost Walk of The Lanes
A macabre tour of the city's most famous neighbourhood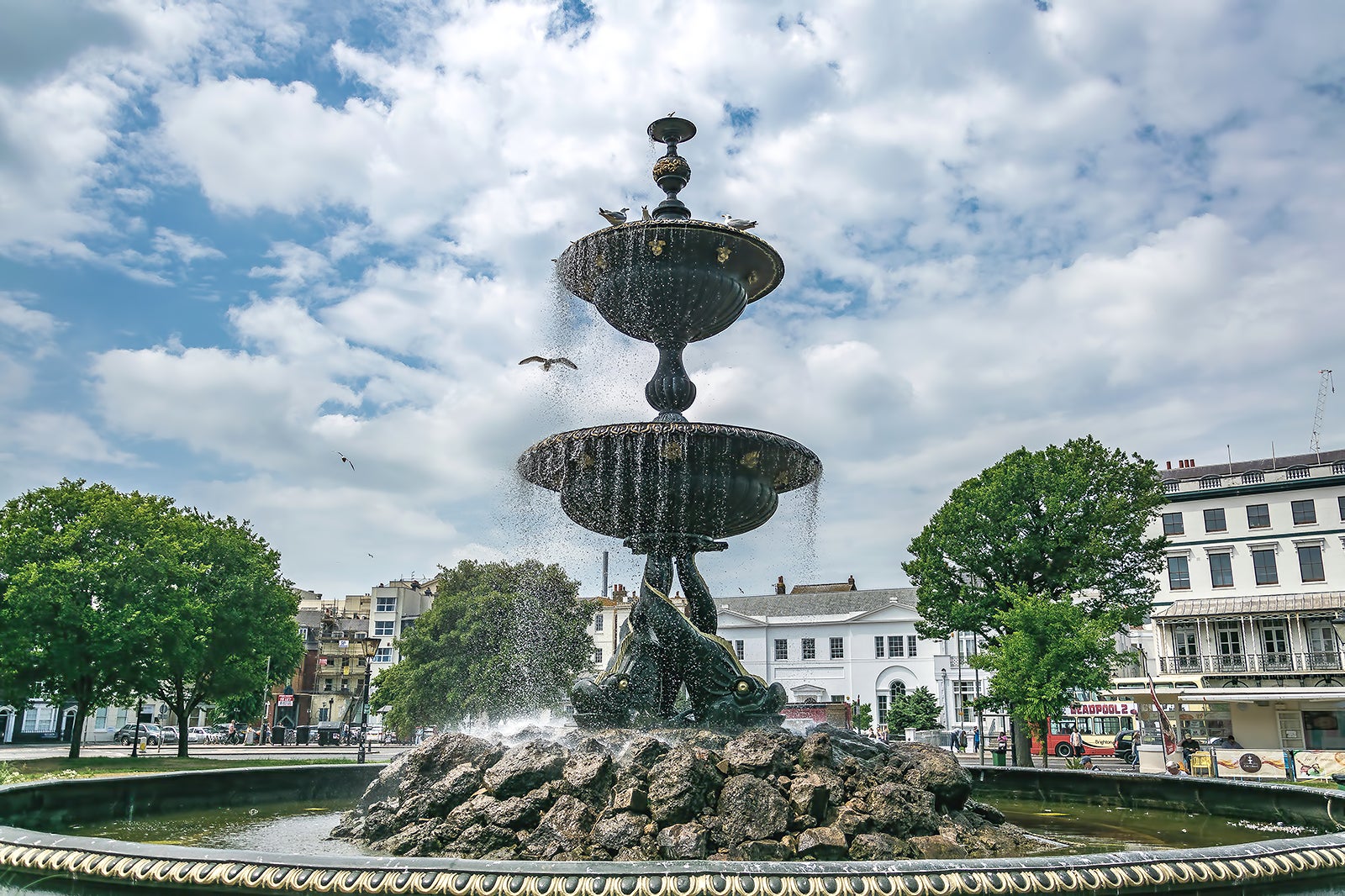 Families
Nightlife
Unusual
Photo
Ghost Walk of The Lanes is the city at its quirky best, providing a look at the rich and varied history of Brighton's Lanes quarter. Expect tales of gory murders, terrifying ghosts, rowdy poltergeists and more than a few Jack-the-Ripper references.
Led by an actor and master storyteller in full Victorian attire, tours take in a total of 8 haunted sites throughout the Lanes and last for around 70 minutes. Key spots include Brighton Old Town Hall and the Black Lion brewery.
Location: Druids Head Pub, 9 Brighton Pl, Brighton, BN1 1HJ
Open: Wednesday, Thursday, Friday and Saturday at 7.30 pm
Phone: +44 (0)1375 374725
13
Alcotraz Brighton
While in Brighton, it's simply worth 'going to jail'
Alcotraz Brighton is a fittingly unusual way to spend the night in Brighton... as an inmate. You go behind bars in Cell Block One Three, a so-called secret basement on Brighton's seafront, and must follow a set of instructions from a notorious bootlegger to successfully and creatively smuggle in liquor that will then be used to make delicious, craft cocktails. All this, while staff in costume and character as wardens try to sniff your plans – you must abide by a set of rules if you get caught.
Every night, Alcotraz Brighton's team of mixologists deliver a range of tailored cocktails based on the liquor you smuggle and according to your preferences. There are different ticket types for different experiences, otherwise referred to as 'sentences'.
Location: 13 Kings Rd, Brighton BN1 1NE, UK
Open: Wednesday–Thursday from 6.15 pm to 10.15 pm, Friday from 5 pm to 11.15 pm, Saturday from 2.45 pm 11.15 pm, Sunday from 1.45 pm to 5.45 pm
Phone: +44 (0)2031 090488
14
Hit Brighton's rooftop bars
For breeze to go with your booze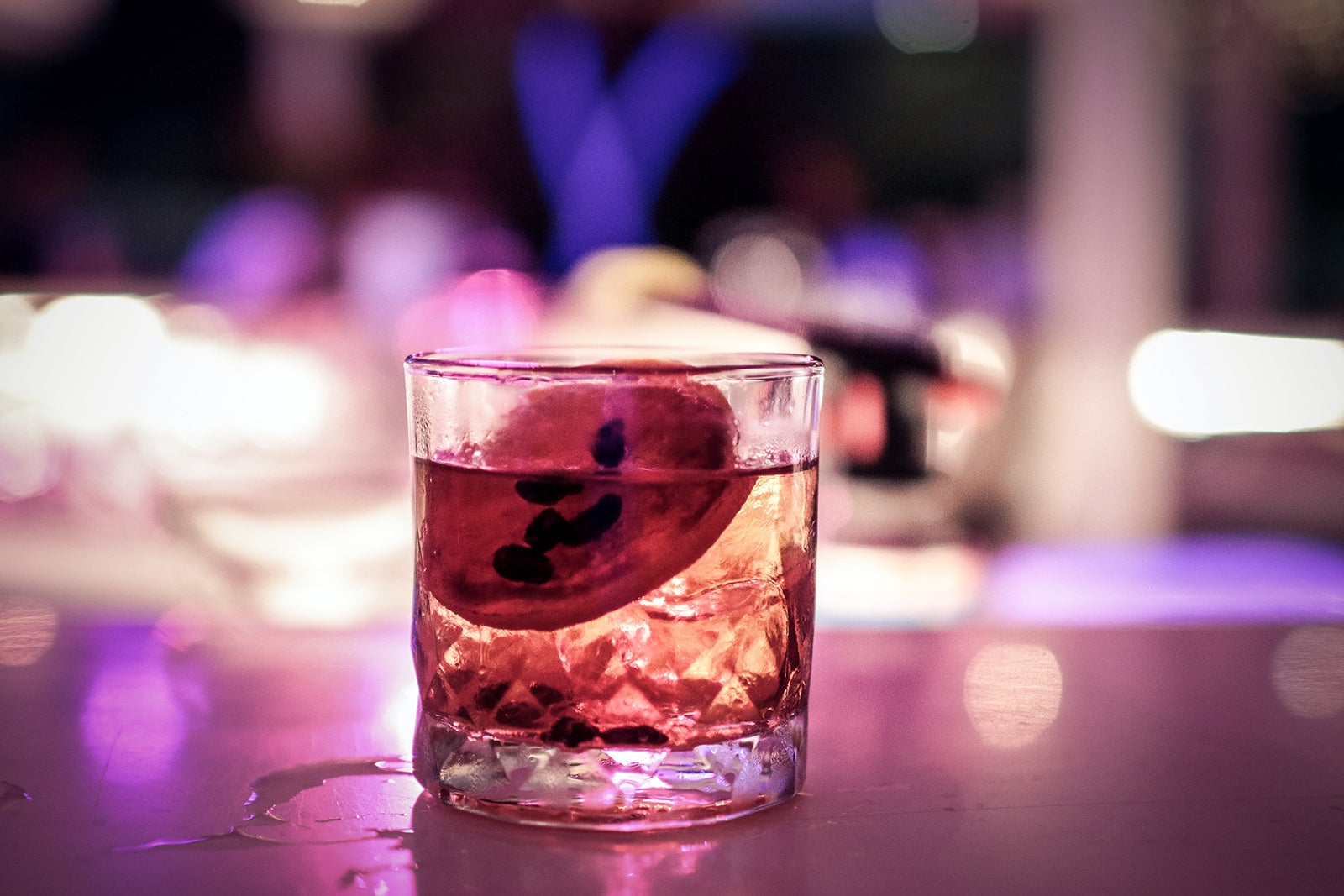 Rooftop bars in Brighton offer cool spaces where you can take a break from the seaside and opt for a breezy and different spot to enjoy your cocktails. Even so, these venues don't offer the spaciousness and dedicated top-floor spaces common to rooftop bars of big cities – don't expect the views to be far from the brick roof tiles of neighbouring houses, either.
Notable spots where you can enjoy your booze with a breeze in Brighton include Bohemia Brighton (its glassed-in roof terrace is great for lounging away to live jazz), The Grand Central with its regular DJ nights, and The Lion & Lobster, which has a leafy terrace on its rooftop.
Open: Hours vary by venue
15
Sea Lanes Brighton
Capturing Brighton's past and future
Sea Lanes Brighton is an effort to revive Brighton's historic Madeira Drive, which features a row of elegant seafront Victorian arches stretching 865 metres. These slightly derelict arches are often livened up, sometimes with dazzling LED street lighting installations that become an evening spectacle.
In the process of creating a People's Promenade and a gradual transformation of Brighton's seafront, Sea Lanes introduces a series of pop-up beach bars and an assortment of summer activities for all to enjoy.
These include Bison Beach Bar, courtesy of Brighton's local craft brewery, a burger house, yoga studios, beach box saunas, and local single-origin cold brew and iced coffee you can order and enjoy right on the beach.
Location: 284 Madeira Dr, Brighton BN2 1EN, UK
Open: Monday from 8 am to 6 pm, Tuesday from 6 am to midnight, Wednesday–Thursday from 6 am to 11 pm, Friday from 8 am to 11 pm, Saturday from 10 am to 11 pm, Sunday from noon to 11 pm
Back to top