Sheffield Travel Essentials
Useful Information to Help You Start Your Trip to Sheffield
Our Sheffield Travel Essentials lays out the essential information you need to help you plan your trip to one of the most popular destinations in the UK. No matter how frequently you travel, some questions will always need answers: What's the weather like? How can I get from Doncaster Sheffield Airport to my hotel? What currency and type of plug do I need?
We have all these answers plus other basic info about the best time to go, getting there, getting around, and a few useful travel tips. You'll also learn about the most popular landmarks in Sheffield such as Sheffield Cathedral, Kelham Island Museum, and Sheffield City Hall. It's all compiled in this Sheffield Travel Essentials. After going through this short and easy-to-read guide, you'll be a little more prepared to start your trip to Sheffield.
1
When is the best time to travel to Sheffield?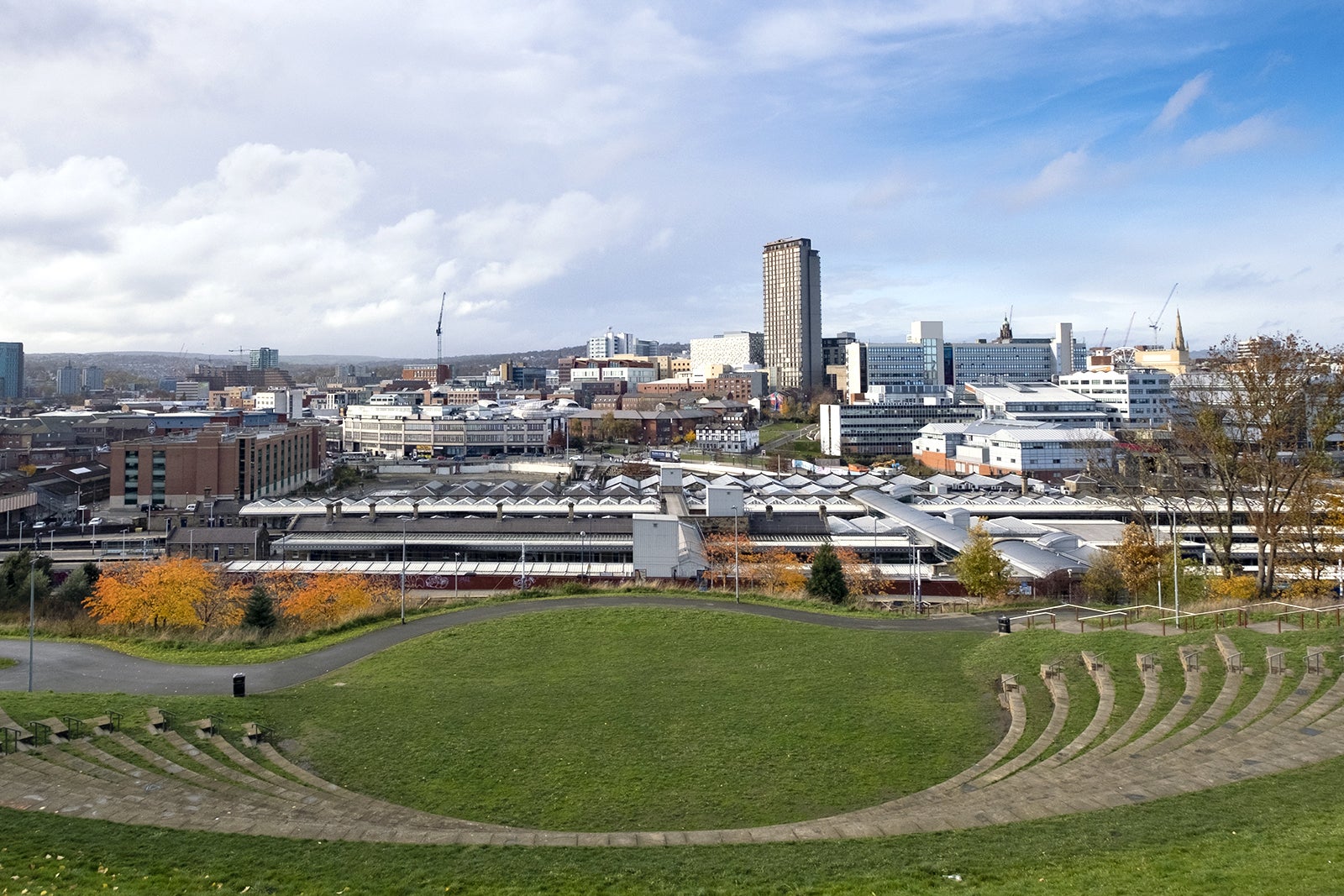 Sheffield has a warm and temperate maritime climate where the summers are mild and it has fairly cold winters with occasional snow. Average temperatures range between 2°C in winter and 21°C in summer.
It rains throughout the year in Sheffield and November–January is the wettest months with an average of 12 – 13 rainy days per month.
July is the warmest month with an average high temperature of 21.1°C and a low of 12.7°C. The peak season runs through summer from mid-June to mid-September. It's when you can expect higher room rates and airfares.
The best time to visit Sheffield is in May–September when there's a lower chance of rain and the temperature is most pleasant.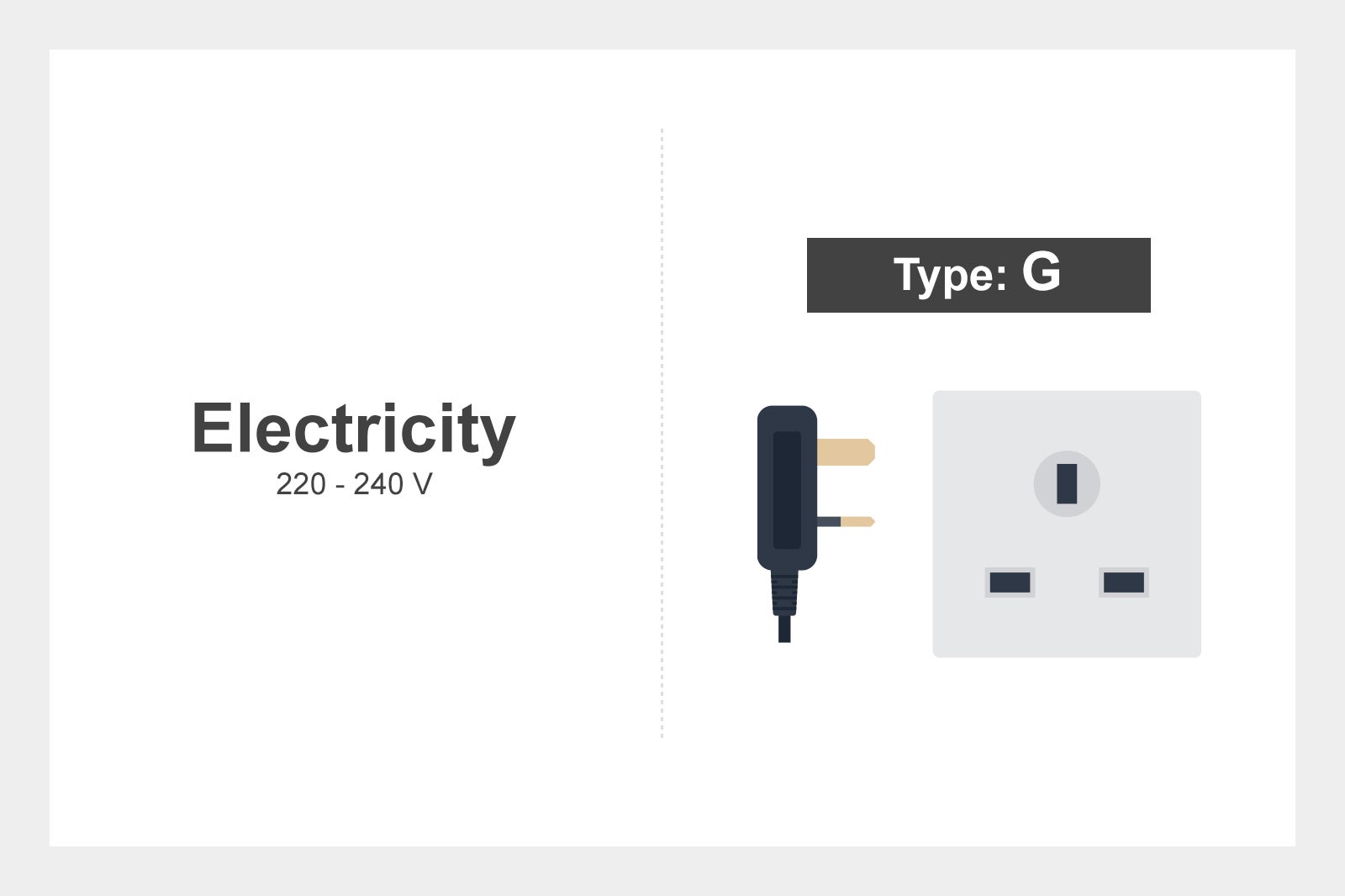 Plug type: G
Electricity: 220 - 240 V
Currency: Pound Sterling (£)
International dialling code: +44 (0)114
Emergency telephone number: 999
3
How to get to my hotel in Sheffield?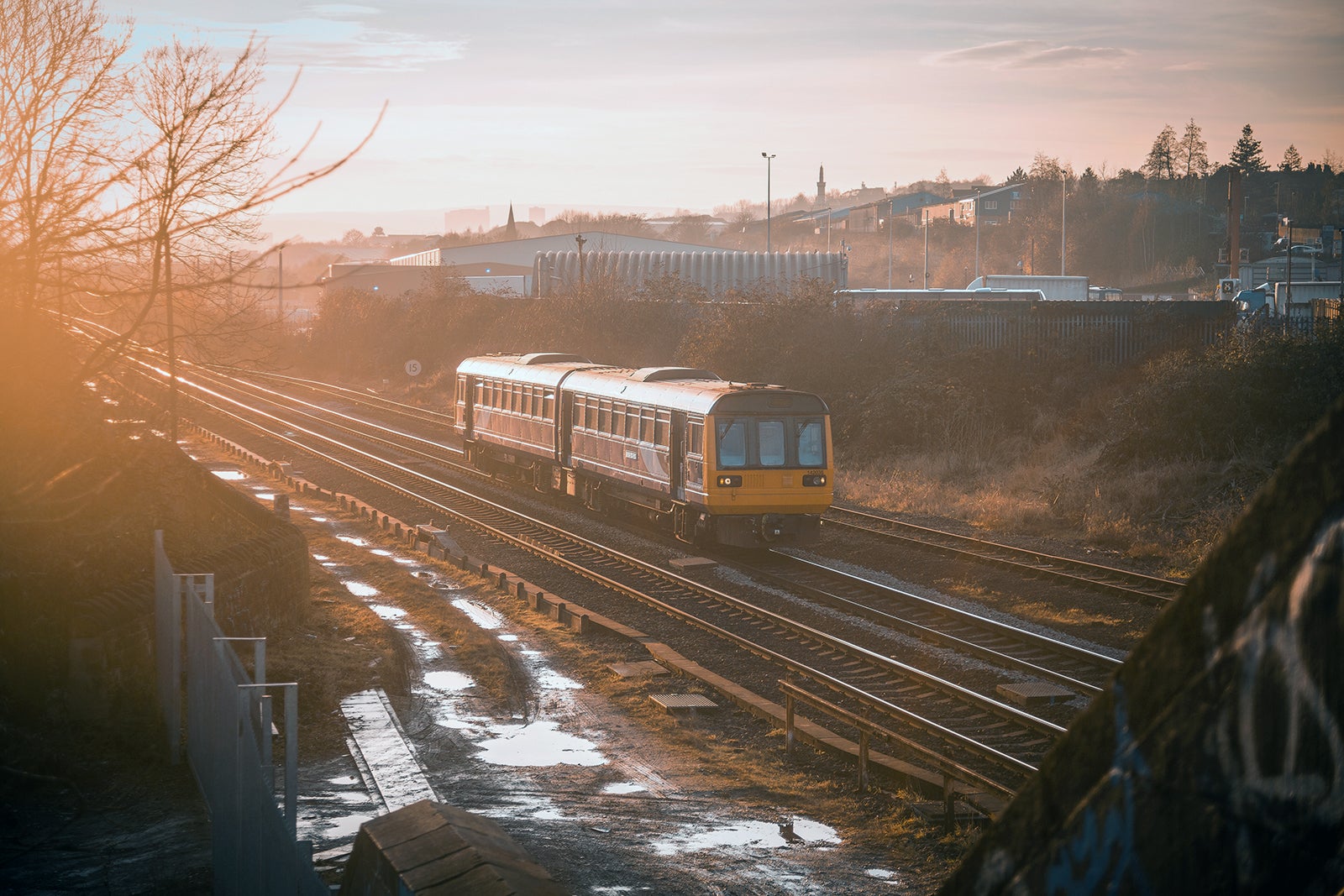 Though Sheffield has Doncaster Sheffield Airport (DSA) as its closest international airport, your overseas flight to Sheffield would more likely land at Manchester Airport (MAN). Trains can then take you directly to the heart of Sheffield from Manchester Airport in about 90 minutes or less. East Midlands Airport (EMA) serves flights to Doncaster Sheffield as well as routes from mainland Europe.
Doncaster Sheffield Airport is modern but has limited traffic compared to Manchester's. It serves mostly Mediterranean and other European countries like Spain, Poland, and Romania, as well as charter flights. From Leeds Bradford Airport (LBA), an hour's drive north of Sheffield, you can take a taxi or bus to Leeds then hop on a train to Sheffield. You can also reach Sheffield train station by rail from various UK destinations.
Manchester, Doncaster Sheffield, East Midlands, and Leeds Bradford airports
From Manchester Airport, there are over 2 dozen trains that can take you directly to Sheffield in under 1.5 hours. The line is served by the Transpennine Express, East Midlands Railway, Avanti West Coast, and CrossCountry rail companies.
From Doncaster Sheffield Airport, also known as Robin Hood Airport, you can take a bus from airport terminal Stand 1 towards DoncasterTown Centre interchange, from where you can then proceed to Sheffield. The whole bus ride should take an hour. A taxi ride takes half an hour.
From Leeds Bradford Airport, you can reach Sheffield on a 20-minute taxi ride or a bus to Leeds first. The A1 bus takes you to Leeds, departing every 30 minutes daily. Arrow Cars is the official taxi partner of Leeds Bradford. You can find the pick-up area right in front of the terminal exit. From Leeds, you can then hop on a train from Leeds Station which will take you to Sheffield in slightly over 1 hour.
You can take a direct coach by National Express from East Midlands Airport to Sheffield. You can also take the Skylink bus to Derby Rail Station, then hop on any of the direct trains to Sheffield. Most trips from East Midlands to Sheffield take under 90 minutes.
Sheffield Station and Meadowhall Interchange
Three major railways intersect at Sheffield: the Midland Main Line, the south-west and north-east cross-country route, and the TransPennine Express (TPE) that runs from north-west to east. They all meet at Sheffield Station at Sheaf Square, in the heart of the city. Sheffield Station is also known as Pond Street and Sheffield Midland Station. It's Sheffield's combined tram stop and railway station.
Meadowhall Interchange is right across the road and over the River Don from the huge Meadowhall indoor shopping centre, northeast of Sheffield central. Besides serving as a convenient entry point for the shopping complex and the Valley Centertainment amusement centre nearby, it has connecting trams and buses that can get you to Sheffield within half an hour.
4
How to get around Sheffield?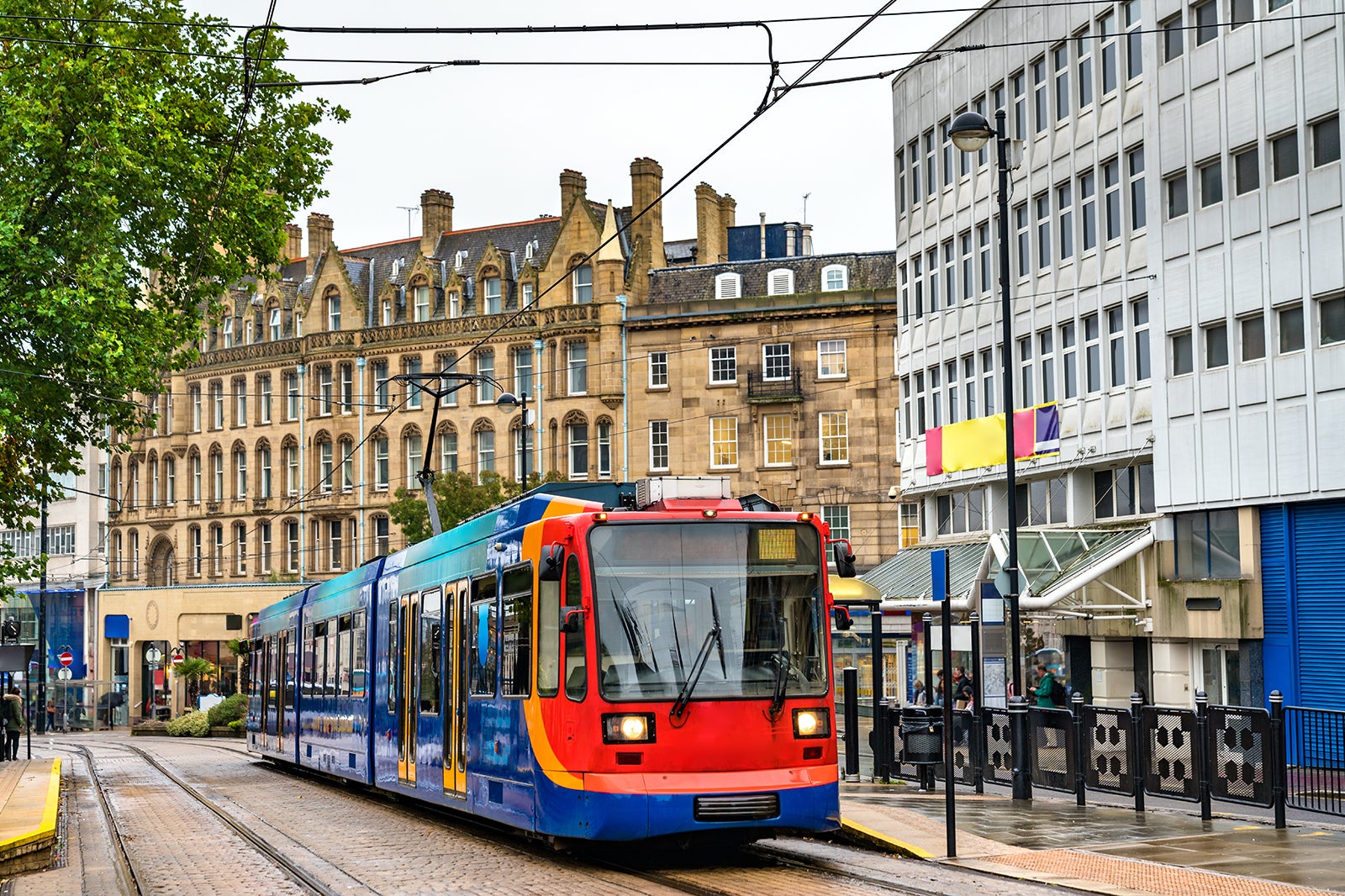 Travel tips
Sheffield is a big city with dynamic and hilly terrain. The city centre is compact enough and walkable though, which you can easily enjoy on a self-guided tour. However, for exploring further into its suburbs, it's best to make use of the public transport systems.
Fortunately, getting around central and suburban Sheffield is made easy thanks to its modern light rail tram network, known as the Stagecoach Supertram, as well as its vast local bus network. These combined services cover the whole city effectively.
Sheffield's bus system, run by 3 main bus operators, is comprehensive. Buses offer day-, weekly-, and monthly-saver ticket options, making them an economical option for getting around Sheffield. You can also get around Sheffield by ordering a taxi or drive yourself – though it's the less recommended option.
How does The Supertram work?
The Stagecoach Supertram, simply referred to as the Supertram, is Sheffield's modern mass light-rail network that's in operation since 1994. It serves Sheffield's city centre and into many of the suburbs such as Rotherham.
You can distinguish the 4 tram lines by colour – all stops are clearly marked either at each stop or inside the trams. The lines are: Yellow (Middlewood–Meadowhall Interchange), Blue (Malin Bridge–Halfway), Purple (Herdings Park–Cathedral), and the Black tram-train service route (Rotherham Parkgate–Cathedral). The Supertram runs Monday–Saturday from 5.30 am to 10.30 pm and Sundays from 8.30 am to 6.30 pm.
Besides buying tickets by cash, you can also pay for tickets by credit card or by using contactless payment and your smartphone with enabled apps such as Apple Pay and Google Pay.
Taking a taxi
Other than the iconic black cabs that you can find throughout the UK, you can't hail a metered taxi on the street in Sheffield. You need to prebook them beforehand or find a taxi stand. Taxis aren't the most economical way of getting around Sheffield. Even so, they might be handy for short trips and during bad weather or when walking isn't favourable.
Know and state your exact destination clearly before getting into a taxi to avoid being overcharged. Although it isn't expected, tipping the taxi driver is common in Sheffield. You can tip anywhere between 10% to 15% of the fare if you're satisfied and the ride all went well. A selection among the many taxi operators in Sheffield is listed below. A1 Taxis have a smartphone app that can help you conveniently order and pay for their services.
Sheffield City Taxis: +44 (0)1142 393939
A1 Sheffield Taxis: +44 (0)1142 888888
JK Taxis Sheffield: +44 (0)7482 666644
Travelling by bus
Sheffield's expansive bus network covers the whole city and suburban areas, making it both a practical and economical way for sightseeing or simply getting around. Bus operators in Sheffield are officially run by the Sheffield City Council, the Sheffield Community Transport organisation, and the South Yorkshire Passenger Transport Executive. Meanwhile, bus companies include First, Hulleys, Stagecoach, and TM Travel.
Most are equipped with GPS navigation systems that make tracking bus rides, their proximity, and their next stops a breeze by downloading and firing up the Yournextbus app on your smartphone. Sheffield bus maps are available online and at bus interchanges.
Should you rent a car in Sheffield?
Renting and driving a car in Sheffield is only recommended if you wish to have extra convenience, exploring further afield around Yorkshire County at your own pace. Even so, if you plan to enjoy Sheffield alone during your visit, public transport is the way to go – driving in Sheffield, especially for first-time visitors, can be stressful. There are a few one-way roads in the city centre. Add to that the narrow streets and heavy parking.
If you do need to drive in Sheffield, there are car rentals from major companies spread throughout the city. Among them are Sheffield Rent-A-Car, Sixt Car Hire, Avis, Hertz, Thrifty, Arnold Clark Car & Van Rental, and Europcar. There's a British Car Hire at Doncaster Sheffield Airport. If you're a non-UK citizen, you can use your country's driving license for up to 12 months in the UK.
Cycling around Sheffield
Since Sheffield is vast and hilly, so exploring the city by bike is recommended only for the fit. There are cycle lanes throughout the city centre, but you need to take extra caution when pedalling your bike as they tend to also serve as parking lanes during peak times.
If you do want to sample the cycling experience in Sheffield, among the notable bike shops where you can hire a bike are Russel's Bicycle Shed, J E James Cycles, and Langsett Cycles Ltd. They also rent out foldable bicycles and e-bikes, which are the better choice for cycling around Sheffield's hillier areas.
5
What are the main annual events in Sheffield?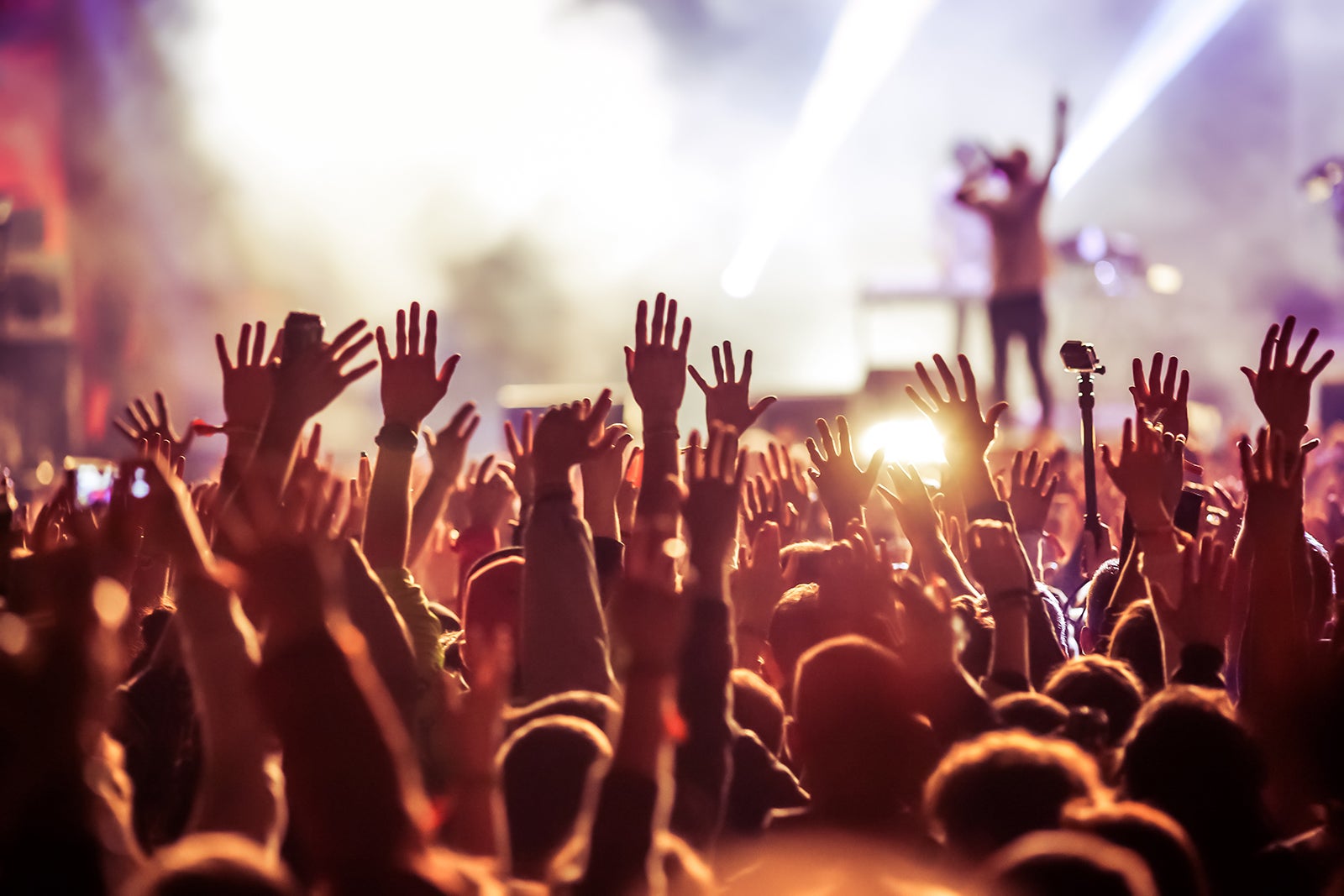 The Folk Forest
July
A summer celebration with food markets, arts and craft workshops, a host of family-friendly activities that you can engage in, and live music concerts within a lush forest park.
Where: Endcliffe Park
Steel City Beer & Cider Festival
October
An annual celebration of all the local pubs, micropubs, breweries and microbreweries in Sheffield, where you can discover hundreds of real ales and traditional cider.
Where: Kelham Island Museum
Tramlines Music Festival
July
Sheffield's largest annual music festival takes place in the large parkland area in Hillsborough, featuring live performances by rock and alternative rock as well as indie bands.
Where: Hillsborough Park and various venues
6
What are the main landmarks in Sheffield?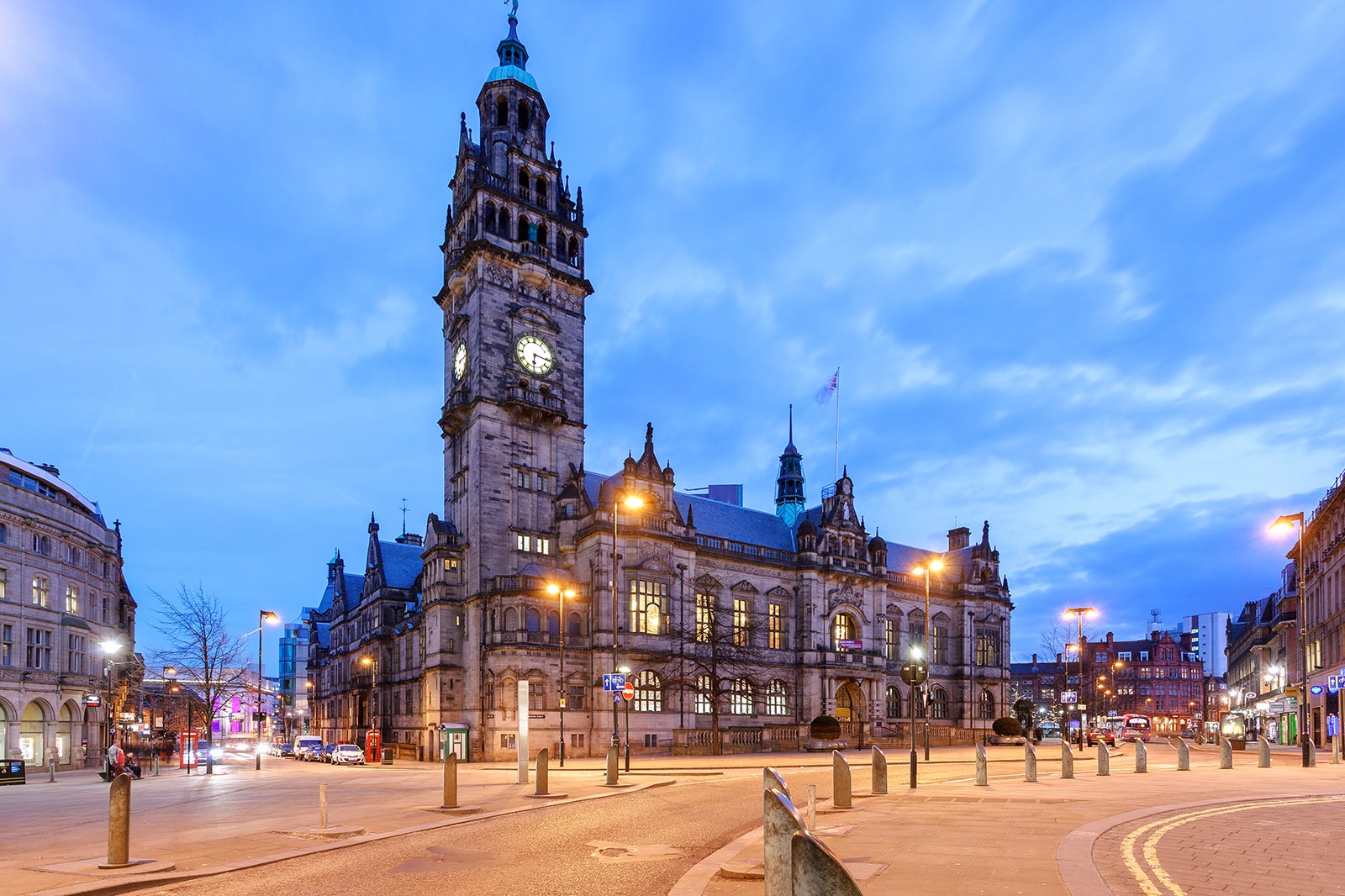 Sheffield Cathedral
A gothic-modernist cathedral and the oldest building in Sheffield. Its chapel features fine stained glass and medieval masonry, where organ recitals and choral evensong are performed regularly.
Kelham Island Museum
A riverside museum where Sheffield's steel-making heritage comes to life with exhibits that range from vintage cars that were built in Sheffield to a jumbo steam engine.
Sheffield City Hall
Sheffield's central landmark features a dominant neoclassical portico dominating its main square. Inside the hall is an auditorium that regularly hosts orchestra and opera.
Sheffield Manor Lodge
The remains of a fine 16th-century Tudor lodge and country retreat of the 4th Earl of Shrewsbury and his family. The turret house and expansive grounds are among its highlights.
Back to top