How to Spend a Weekend in Brighton
The Best Things to Do in Brighton in 48 Hours
Brighton is a seaside town on England's southern coast. The train from London takes an hour, making this coastal escape one of the best short trips from the capital. Well known as the UK's LGBT capital, you'll find a liberal, multicultural vibe in Brighton that belies its small size.
Brighton has been dedicated to leisure long before the rail line from London was completed in the 1840s, and it's kept up with the times thanks to a combination of modern attractions and Regency-era heritage. You'll find families lounging on the beach, day-trippers strolling along the promenade, and a vibrant nightlife scene. It's Brighton's variety of experiences that keeps people coming back for more.
1
Brighton Palace Pier
Stroll the boardwalk while eating an ice cream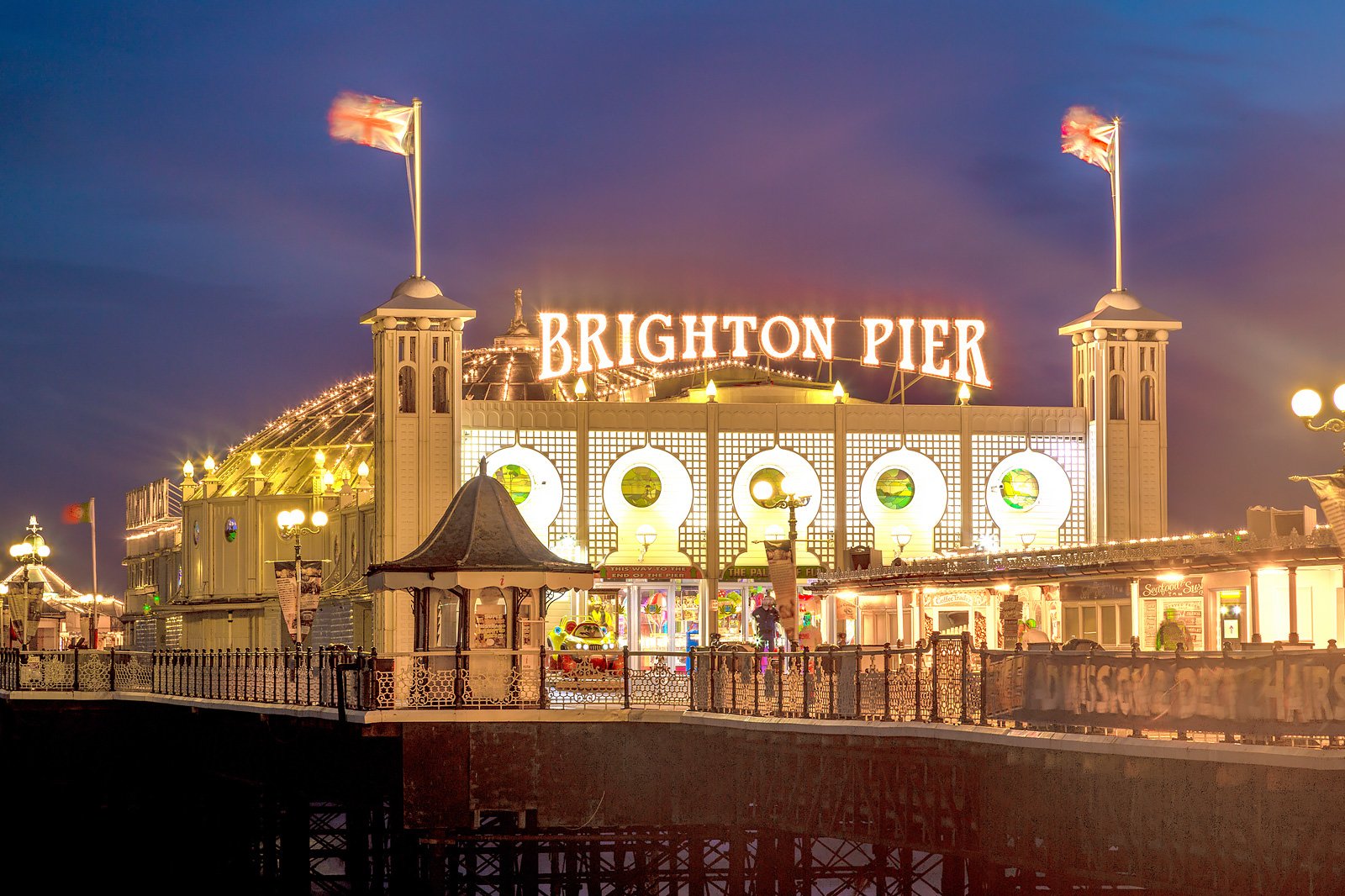 Families
History
Photo
Budget
Topped by fluttering Union Jacks and lit up in lights every evening, Brighton Palace Pier is a classic snapshot of a British seaside attraction. The wooden boardwalk is a bustling place to be, with everyone from families to old couples enjoying the carnival atmosphere.
You can play some games in the amusement arcades, get dizzy on the fairground rides, and pick up some ice creams, doughnuts or sticks of rock from a whole row of stalls.
Location: Madeira Dr, Brighton BN2 1TW, UK
Open: Daily from 10 am to 10 pm (closes at 5 pm in winter)
Phone: +44 (0)1273 609361
2
Brighton Beach
If it's low tide, make a sandcastle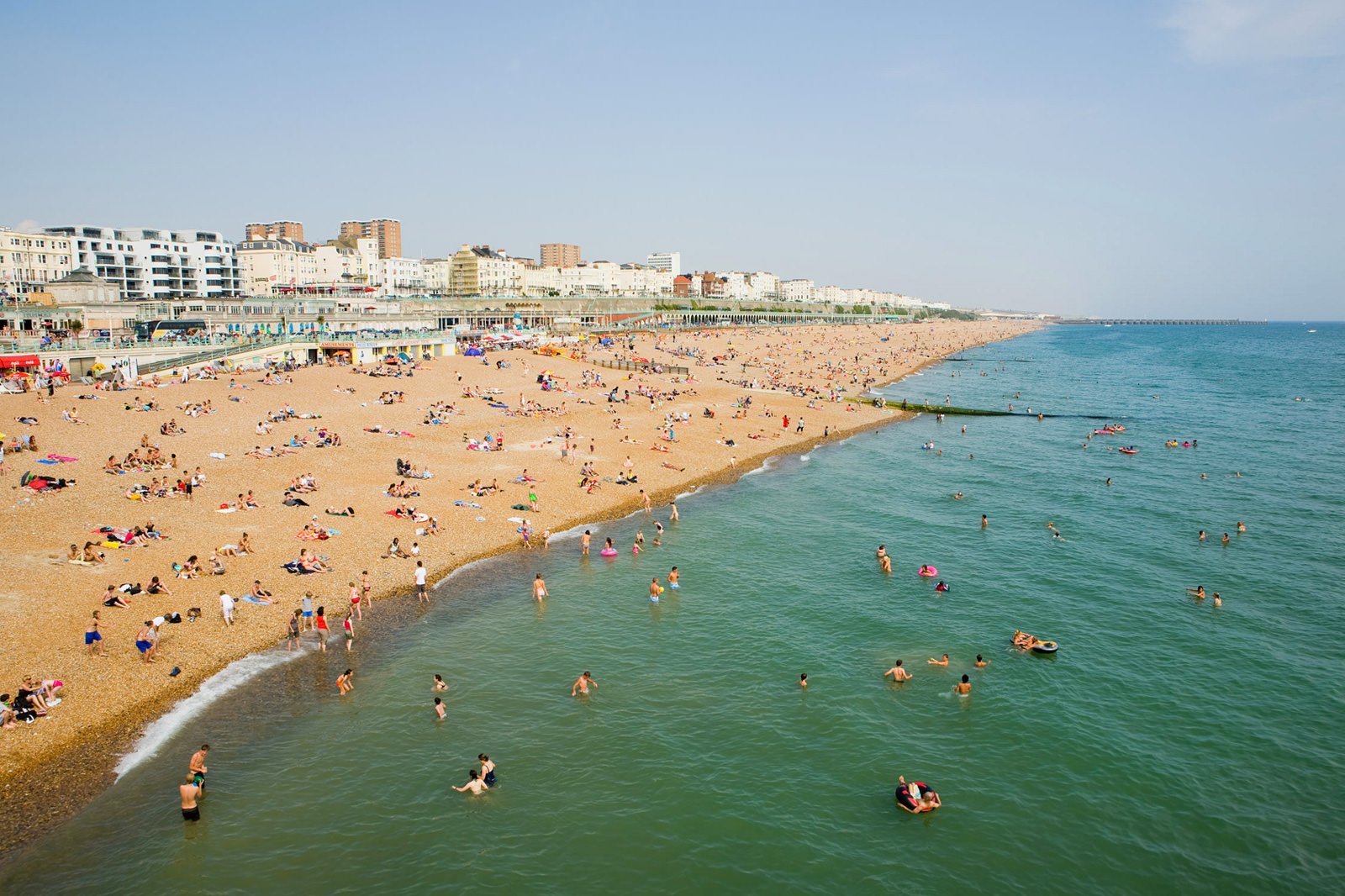 A day by the seaside isn't complete without a brisk paddle in the water and a walk along the beach. Admittedly, the mostly shingle beach in Brighton lacks the lure of soft sand and swaying palms, but it's still a popular beach and a great place to relax and watch the waves roll in. At low tide, you may even get a stretch of sand to sit on.
3
Eat fish & chips
Watch out for the seagulls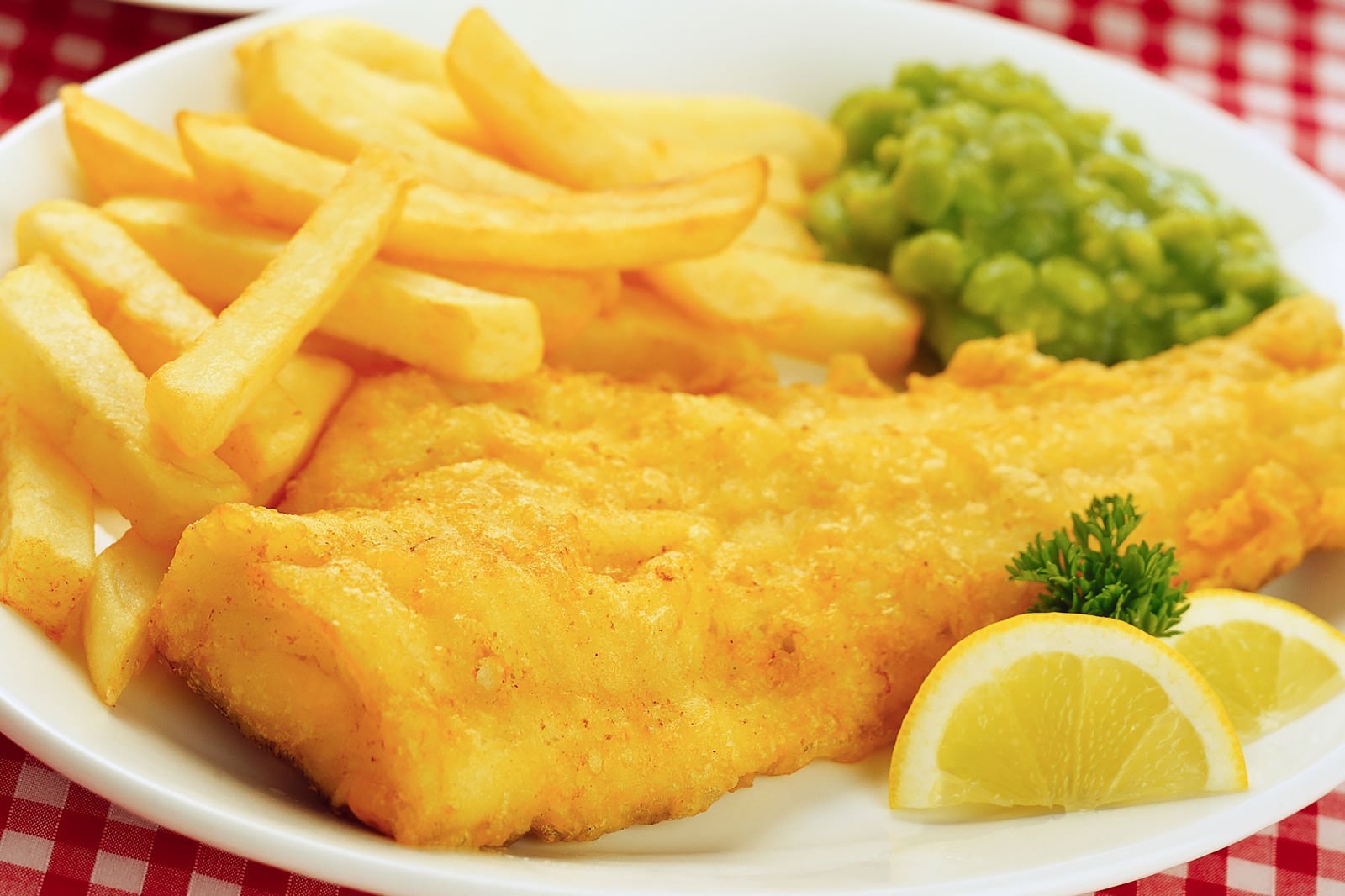 Enjoying fish & chips on the beach is a rite of passage when on holiday in Brighton. Takeaway 'chip shops' are plentiful in Brighton, especially along the seafront. This classic English dish of deep fried cod and chunky chips always tastes better in the sea air, with seagulls squawking overhead.
Jack & Linda Mills Traditional Fish Smokers is a popular spot for seafood on the beachfront, with indoor and outdoor seating close to the beach. A few miles in land, on Baker Street, you'll find the locals' favourite, Bardsley's. You can sit in at this restaurant, and they sell beers, too.
Location: Jack & Linda Mills Traditional Fish Smokers, Kings Road Arches, Brighton BN1 1NB, UK
Phone: +44 (0)1273 723064
4
Explore Brighton Marina
Check out the shops and restaurants with ocean views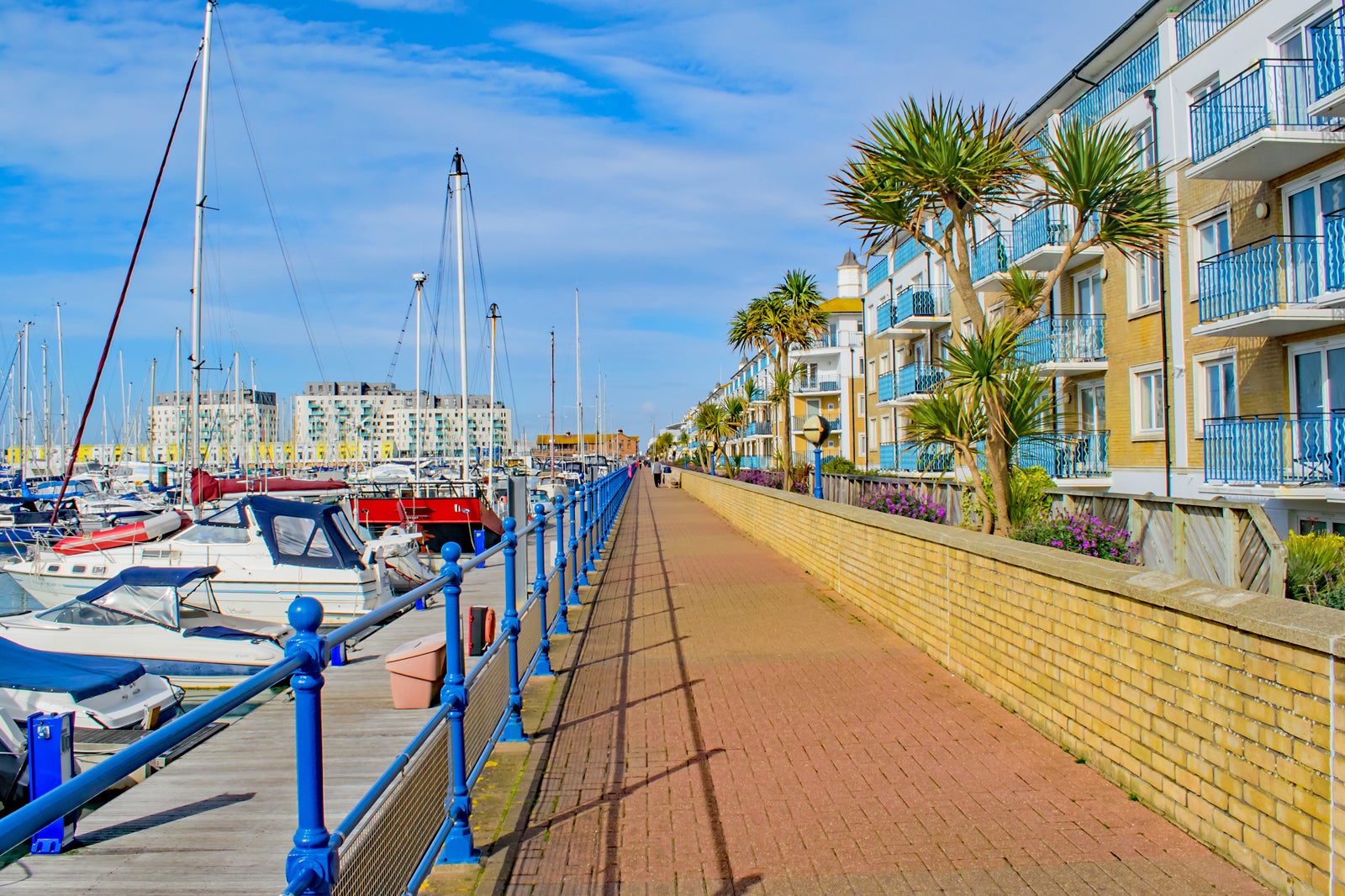 Brighton Marina is not only the largest in Europe, but it's a great place for land lovers thanks to the fantastic range of shopping, dining, and attractions. Located on the eastern edge of Brighton Beach, the whole area has been gentrified with a shopping centre, casino, a fancy hotel, and a row of quayside restaurants. You'll find over 30 places to eat serving a wide variety of cuisines, from Indian curries to Mexican tacos. For families, there's bowling, live theatre, a multi-screen cinema, and even glow-in-the-dark crazy golf. Check out the outdoor market on the first Sunday of every month, with lots of arts and crafts, fresh produce, and a festive vibe.
Location: Marina Square, Brighton BN2 5UU, United Kingdom
5
Must-See: The Royal Pavilion
Tour the grand banquet halls of King George IV's pleasure palace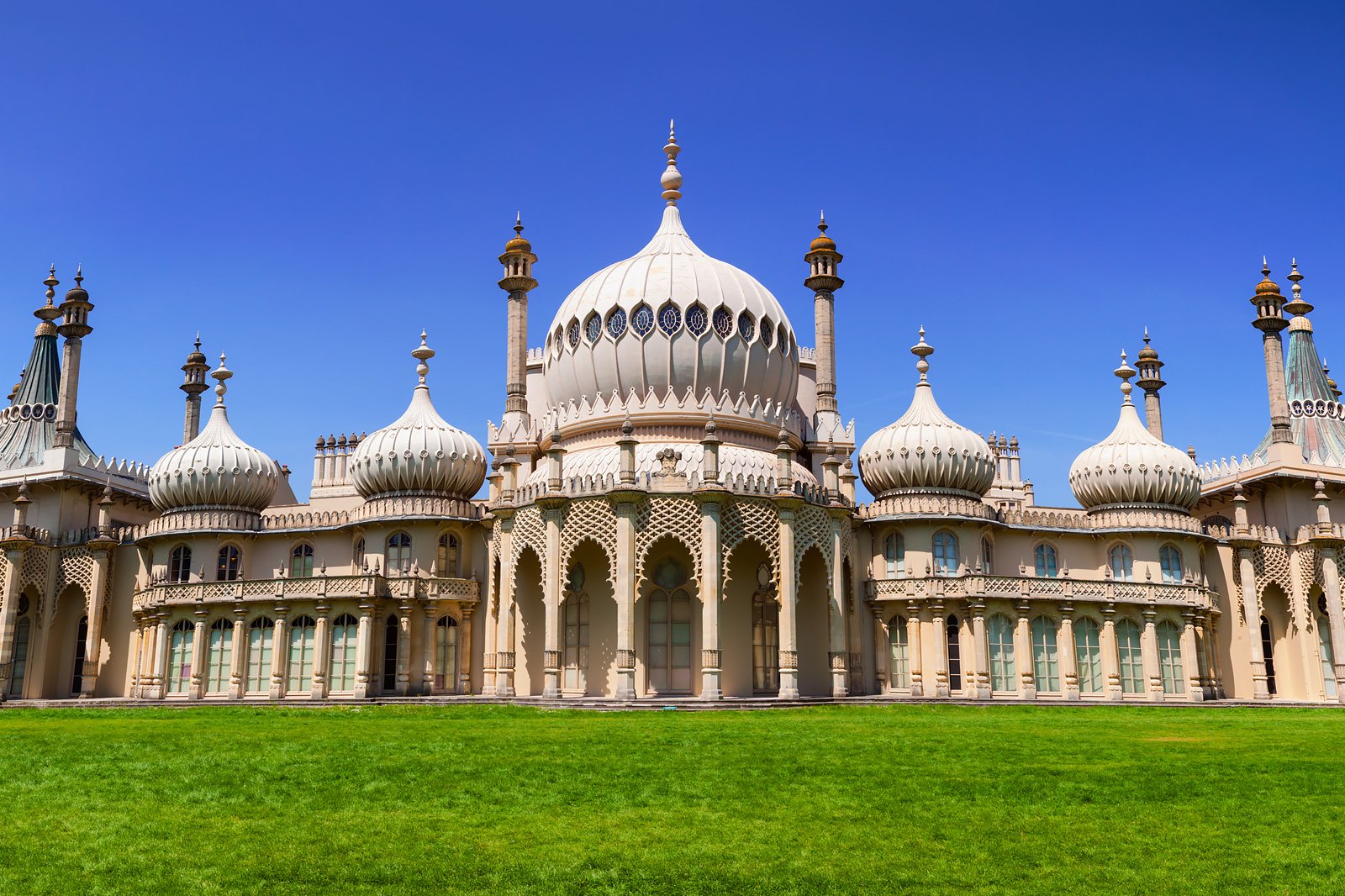 One of England's most exotic royal residences, the Pavilion has a touch of the Taj Mahal about its curved domes and sandstone spires. Built in the 1800s, this snazzy palace was used as a getaway for the Prince of Wales when he wanted to escape from London and entertain his friends. It's no longer in use by the monarchy, but you can still tour the opulent ballrooms and banquet halls and imagine the wild scenes that must have taken place. Legend has it that feasts would include up to 70 different dishes.
Location: 4/5 Pavilion Buildings, Brighton BN1 1EE, UK
Open: October – March from 10 am to 5.15 pm, April – September from 9.30 am to 5.45 pm
6
Enjoy the view from BA i360 Viewing Tower
360-degree views of Brighton from 450 ft in the sky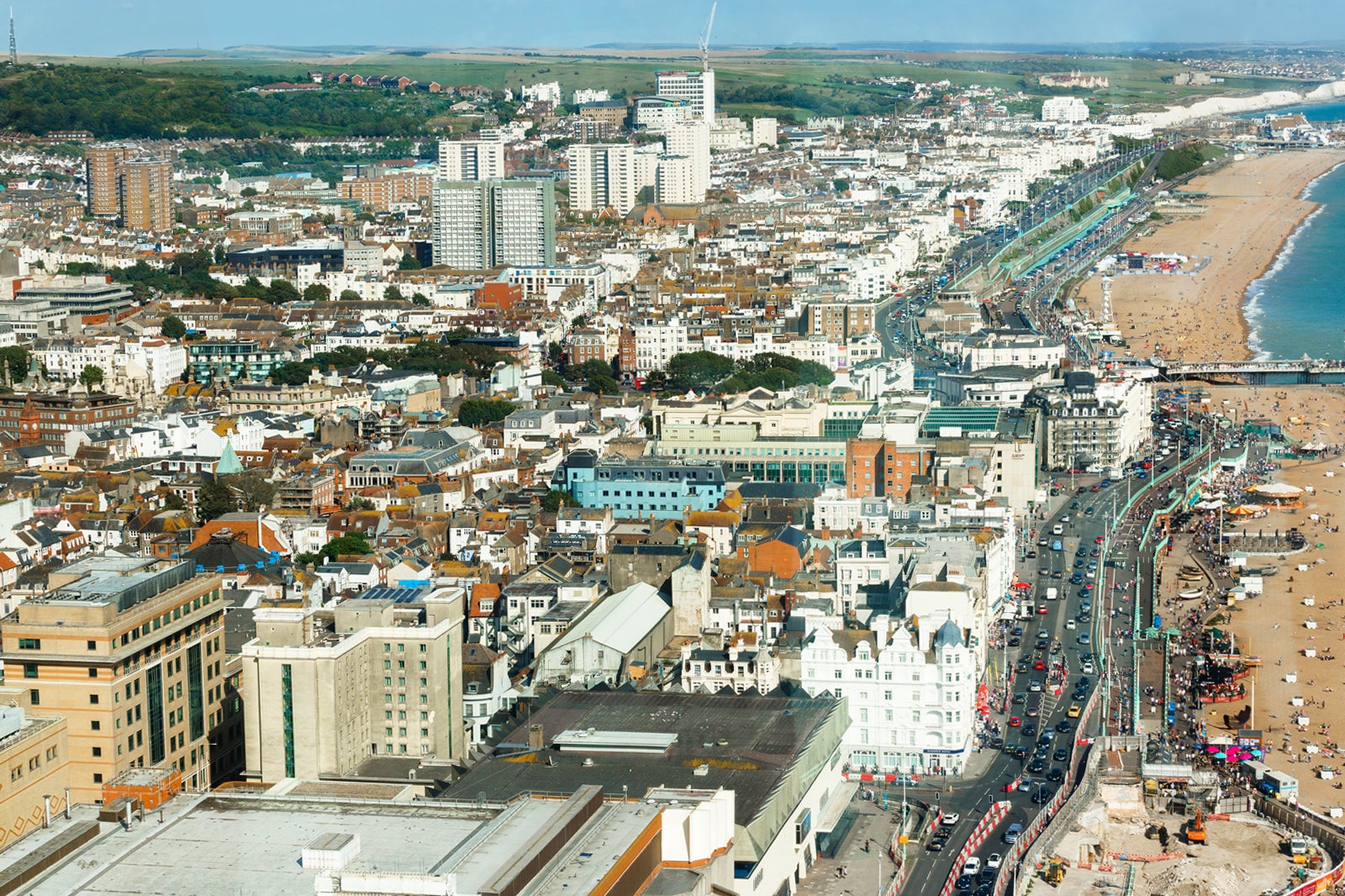 This modern landmark is proof that Brighton is more than just heritage sites. This fun 'flight' into the sky starts when you board your flight pod, which then glides 450 ft into the air. The views are simply incredible. The ride lasts for 25 minutes. After your trip into the sky, you can enjoy a drink at the West Beach Bar & Kitchen, at the base of the tower. It's easy to find this looming attraction on the beachfront, close to the ruins of the West Pier.
Location: Lower Kings Road, Brighton BN1 2LN, UK
Open: Daily from 10 am to 5.30 pm (open till 7.30 pm on Friday and Saturday)
7
Shop on North Laine
Not a brand name in sight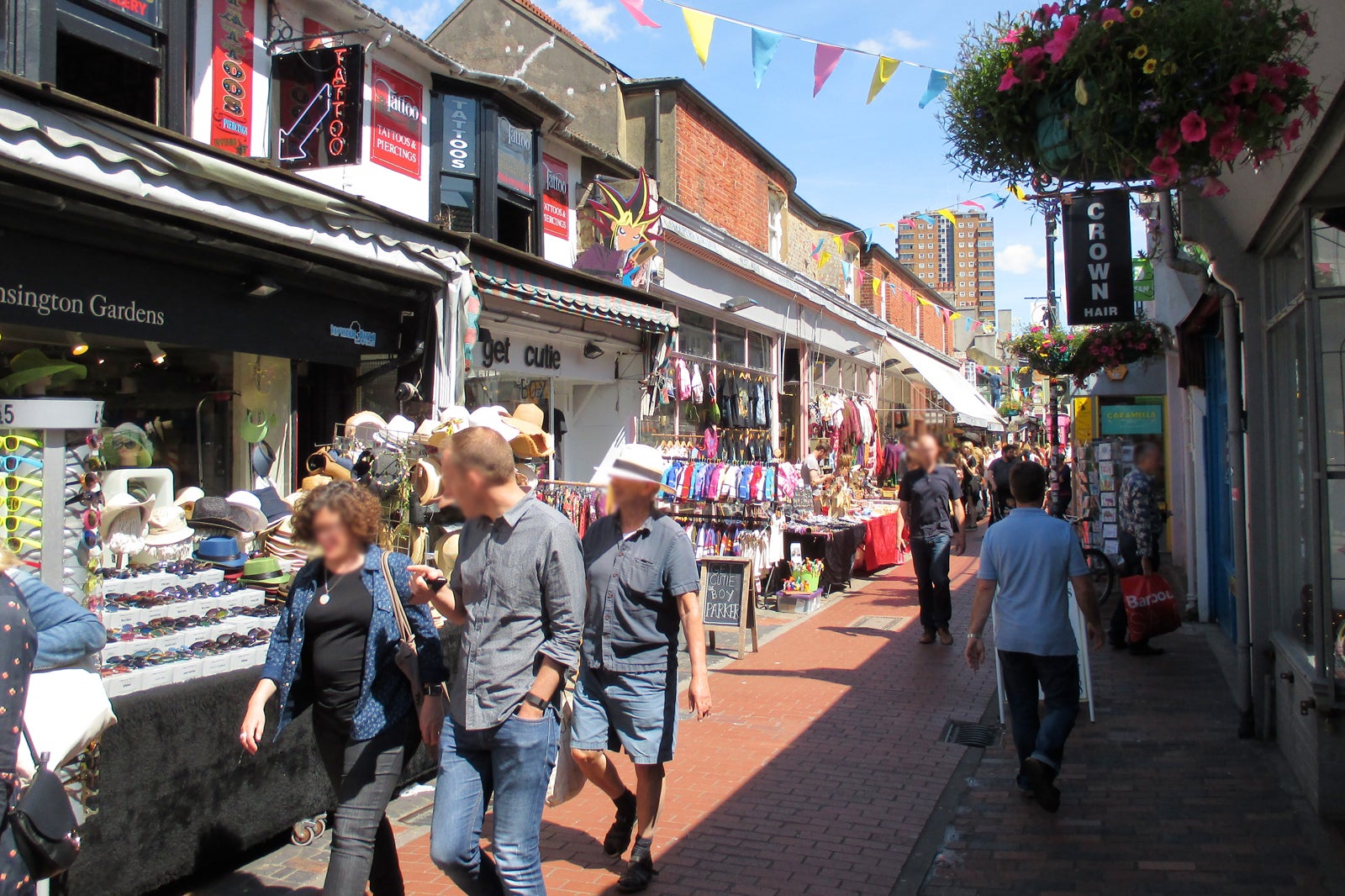 If you like independent retailers and unique items, then North Laine is for you. This kooky collection of 300 shops on Sydney Street and Gloucester Road has everything from artwork sourced from exotic locations to original British designs and plenty of retro kitsch. There's an enclave of artists with studios selling their wares, and you'll find plenty of one-of-a-kind homeware and fashion items. For bargain hunters, head to the North Laine Flea Market on Upper Gardener Street to search for hidden gems.
Location: Sydney Street (and surrounds)
8
Get lost along The Lanes
Explore Brighton's quaint old fisherman's village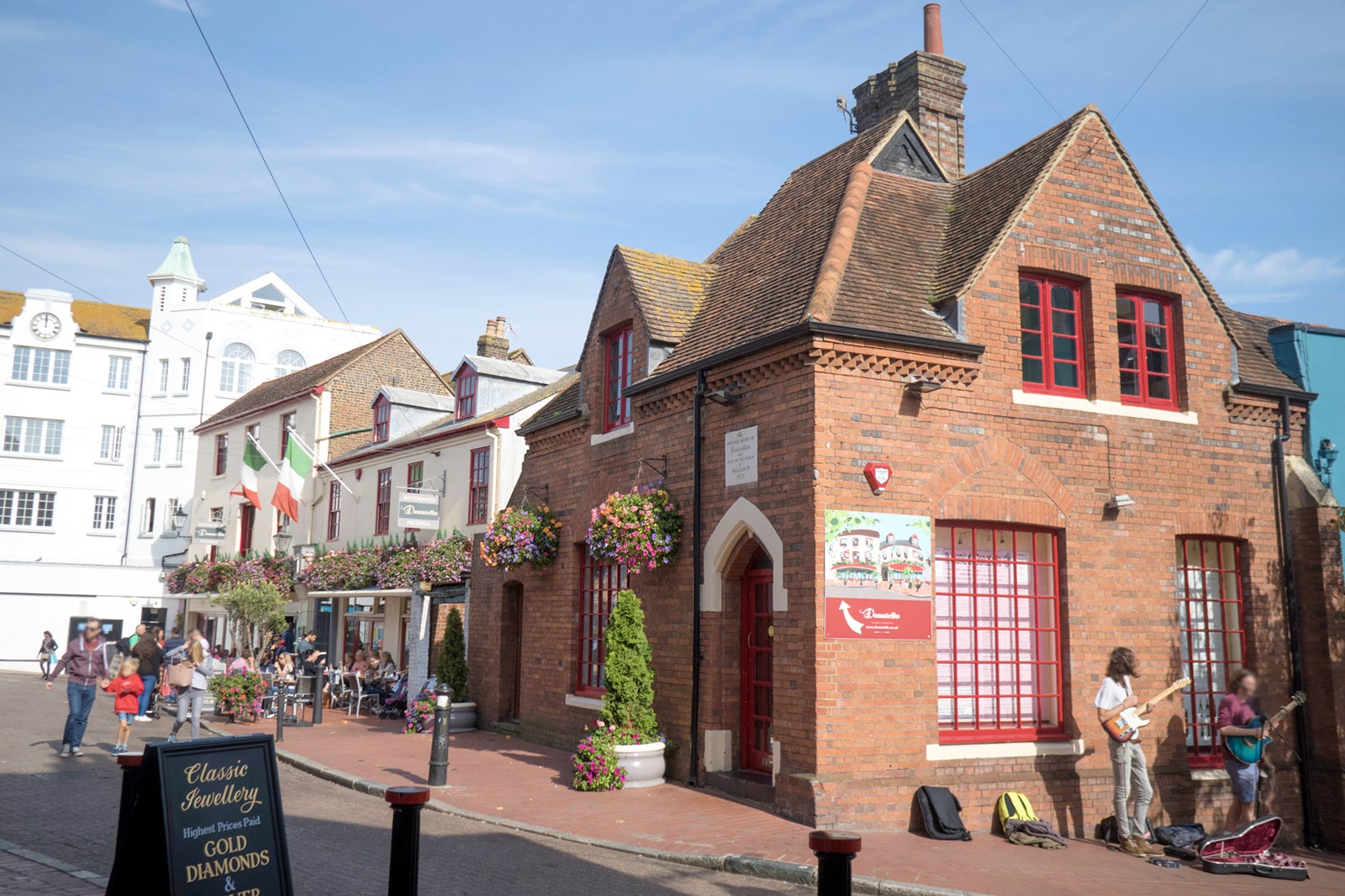 Couples
Families
Photo
Budget
This popular tourist hub is a series of alleyways and lanes that encapsulate Brighton's mix of old-world charm and multicultural, modern vibe. Live music is heard throughout, with shops, cafés, bars, and a lots of heritage buildings. Spread out over a square mile, The Lanes was once a fishing village, and some old cottages still stand today with flower baskets and colourful bunting hanging from their roofs. To find The Lanes from the beachfront, head up Black Lion Street and follow the crowds.
photo by Jwslubbock (CC BY-SA 4.0) modified
9
Watch a show at Brighton Dome
See Brighton's best performance art in a beautiful theatre
Brighton Dome Concert Hall is a Victorian theatre that hosts a variety of live shows. Live bands and stand-up comedy are the biggest draw here, and with 3 different stages, chances are you'll have a choice of what to watch. It's easy to find Brighton Dome as it shares the Pavilion Gardens with the Royal Pavilion. Throughout May, the Brighton Fringe Festival comes to town and the Brighton Dome hosts numerous exciting performances.
Location: Church St, Brighton BN1 1UE, UK
Phone: +44 (0)1273 709709
10
Party on West Street
Join the boozy hoards on a bar crawl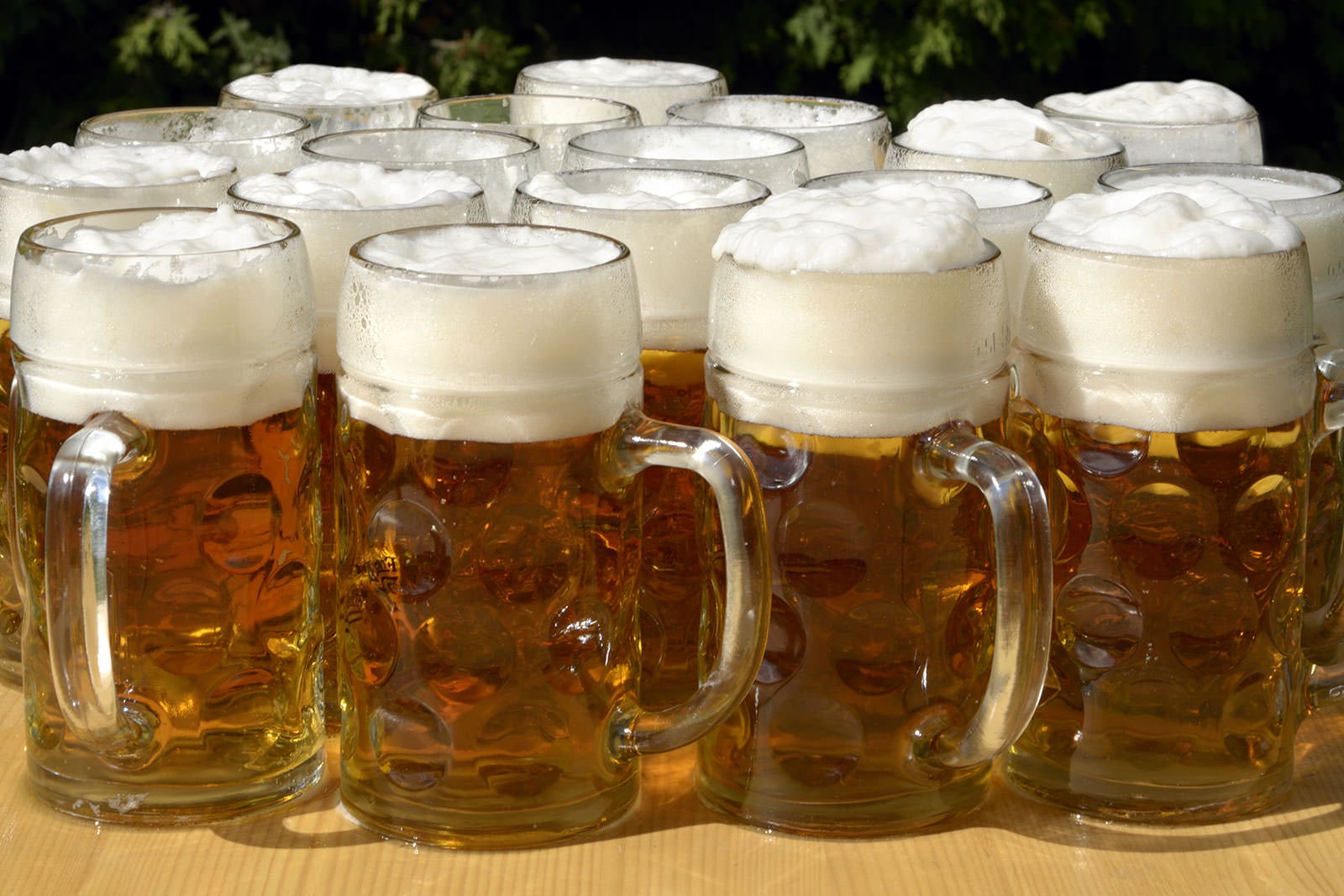 If you are looking to hit the pubs and clubs Brighton is so famous for, you should start on West Street. The selection of bars and restaurants is varied enough to offer everyone something suitable and it's really easy to find.
West Street runs through the centre of town and ends at the beach. Popular bars include Irish pub Molly Malones, trendy cocktail bar Revolution, and always-pumping Bedrock. It can get a bit hectic on weekends, but you can always escape to nearby Middle Street for a more relaxed vibe.
Location: Brighton BN1 2RA, UK