Rue du Suquet in Cannes offers a different side of the city beyond the usual glitz and glam, with outstanding restaurants, historic attractions and a hidden cultural gem. This road was the original main avenue into the city and today brings you across cobblestone alleyways dating back hundreds of years, through old residential areas in a charming, classical and tranquil Old Town area. Old Town is famed for its amazing collection of local restaurants. This winding walkway takes you through 4 centuries of history just minutes from fine dining and spectacular beaches.
This road takes you through a true hidden gem of Cannes. If you want to explore the original historic city centre–an entire world that walks you back in time–explore Rue du Suquet Street.
What are the highlights of Rue du Suquet?
Rue du Suquet highlights are hands down the restaurants lining the road. These offer everything from traditional French cuisine to seafood to tapas bars and beyond. You can head for the Bistrot Gourmand for outstanding wine selections and traditional bistro-style ambience. Stop at Astoux et Brun for fantastic seafood, from baked fresh fish to escargot and other dishes. Check out Le Jardin Secret with its blackboard menu if you're looking for tapas. Bobo Bistro offers a Mediterranean menu, while Lucky You is a classic steakhouse.
Rue du Suquet also offers extensive sightseeing opportunities. Here you'll see houses that date back 400 years. You can climb a bell tower for outstanding panoramic views of the entire region stretching for miles around. Every weekend, Old Town Cannes offers a flea market where you can explore old books and paintings, second-hand clothing, housewares, arts, crafts and other pre-owned deals.
A brief history of Rue du Suquet?
Rue du Suquet travels through the heart of Old Town Cannes, which, 400 years ago, was a residential neighbourhood of local fishermen. However, the street and city history date back even further than that. The city was initially built as a fortress on a hill in Roman times, where it was most defensible. By the 11th century, Le Suquet was the property of the monks of the Iles de Lérins. By 1088, the Cháteau de Castre rose in the area, and today's city began to grow around it. Eventually, the watchtower became a vital part of the city's defence against pirates and Saracen invaders. Today it's a famed viewpoint.
The Rue du Suquet was the original main road into the centre of Cannes from Le Suquet, travelling below the castle's walls. Today it is a charming pedestrian avenue famed for its wide range of casual and upscale dining experiences.
What else is good to know about Rue du Suquet?
Rue du Suquet is a pedestrian avenue, so you don't have to worry about vehicle traffic as you traverse the region and explore the old homes and delicious eateries along the way. The road is cobblestone and a bit bumpy, so make sure you're prepared before navigating it. Many historic locales here are still in their original forms, so people in need of mobility assistance will need to plan ahead. Fortunately, you'll find plenty of options throughout the area to get where you need to go among the authentic cobblestone street including nearby ground floor accommodations and tour buses with wheelchair ramps.
Local petit train buses travel here and stop next to the watchtower but won't allow you to enjoy the entire breadth of scenery along Rue du Suquet. You can also easily spend an entire day in this region of Cannes, with many points of interest and historic buildings just steps away.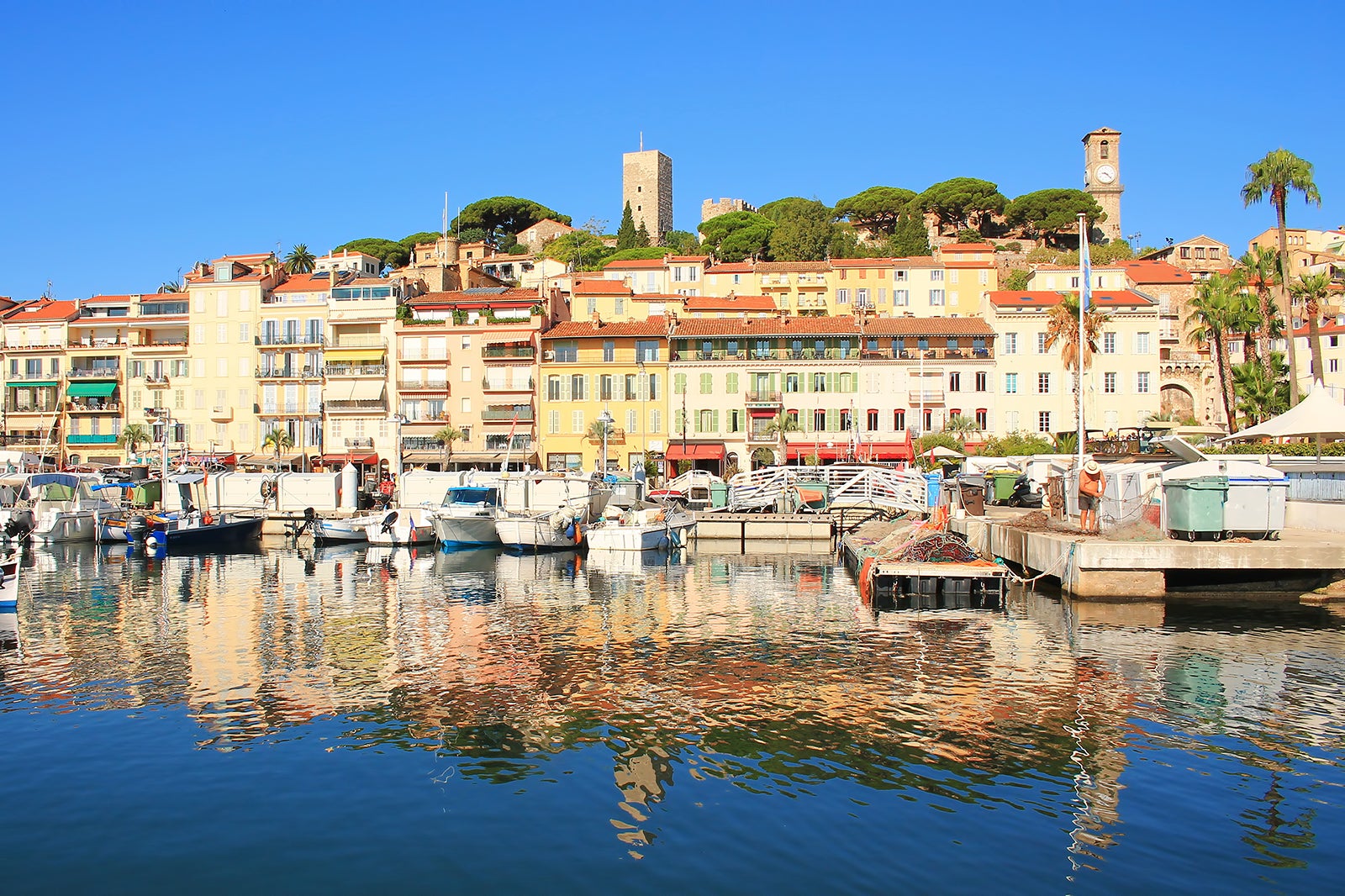 Rue du Suquet in Cannes
Location: Cannes, France
Back to top