10 Best Things to Do in Jersey
What is Jersey Most Famous For?
The best things to do in Jersey revolve around beaches and history. The largest of the Channel Island, this island is found off the southern coast of England – although it's actually closer to France. Along with beautiful beaches and coastal cliffs, Jersey is known for its fascinating military history. During the Napoleonic Wars and World War II, Jersey was the staging post for attacks on the British Isles and this history can be seen and felt right across the island.
It has a special status within the UK, meaning it can set its own taxation rules. The island has its own parliament, which has made it a beacon for the rich and famous over the years.
What are the best things to do in Jersey?
1
St Brelade's Bay
Spend the day on Jersey's prettiest beach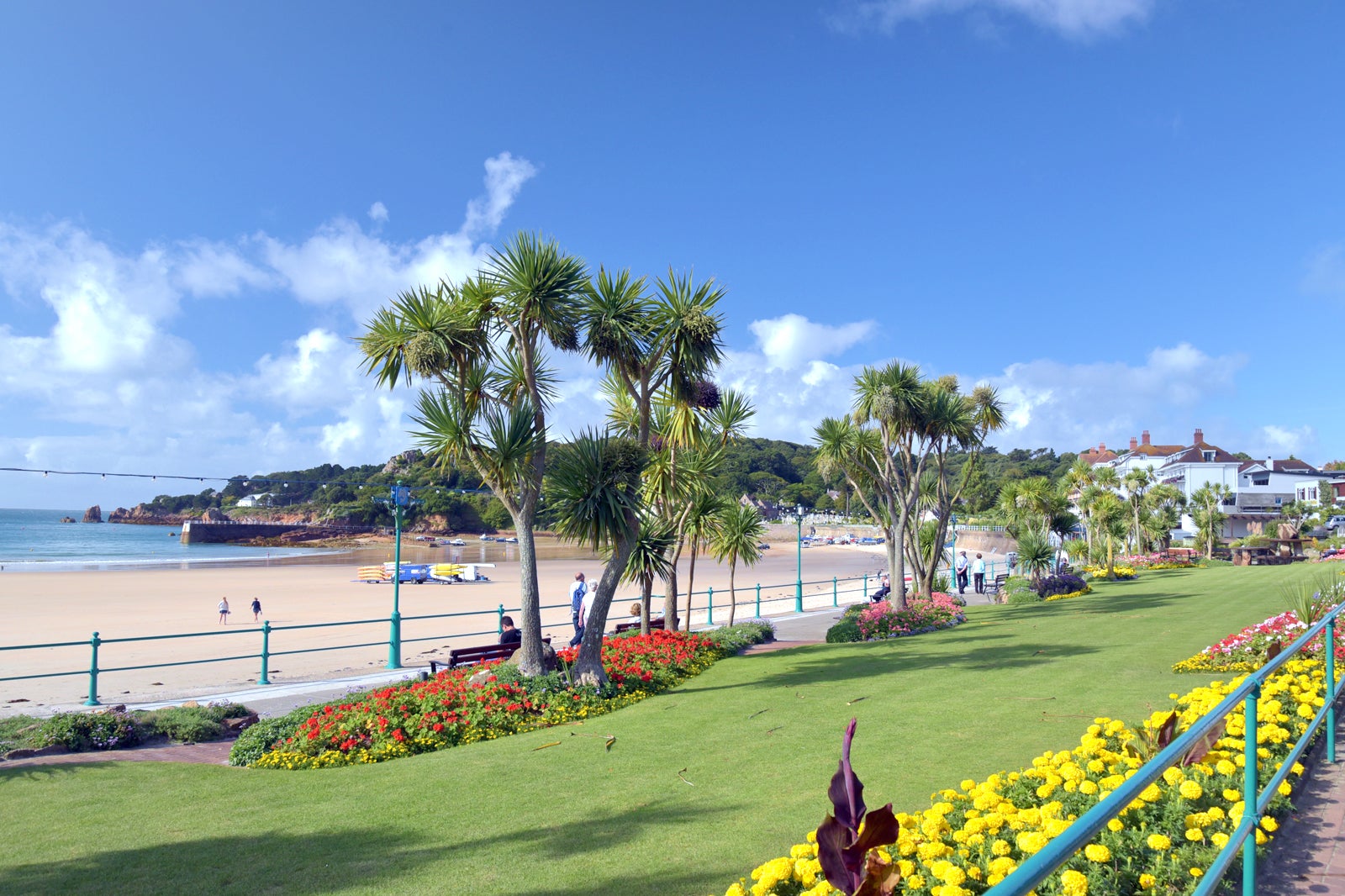 St Brelade's Bay is a picturesque, gold-sand beach on the southern coast of Jersey. This stunning bay regularly wins awards as one of the UK's finest beaches thanks to its beauty, cleanliness, and convenient facilities that line the beach promenade running parallel to La Route de la Bale.
The bay is very sheltered from crashing waves and the coastline has a shallow gradient making it suitable for paddling with small children. You can take bus routes 12 or 14 to reach St Brelade's Bay from most places on the island.
Location: St Brelade's Bay, Jersey, UK
2
Mont Orgueil Castle
Explore the secret passageways of this Norman fortress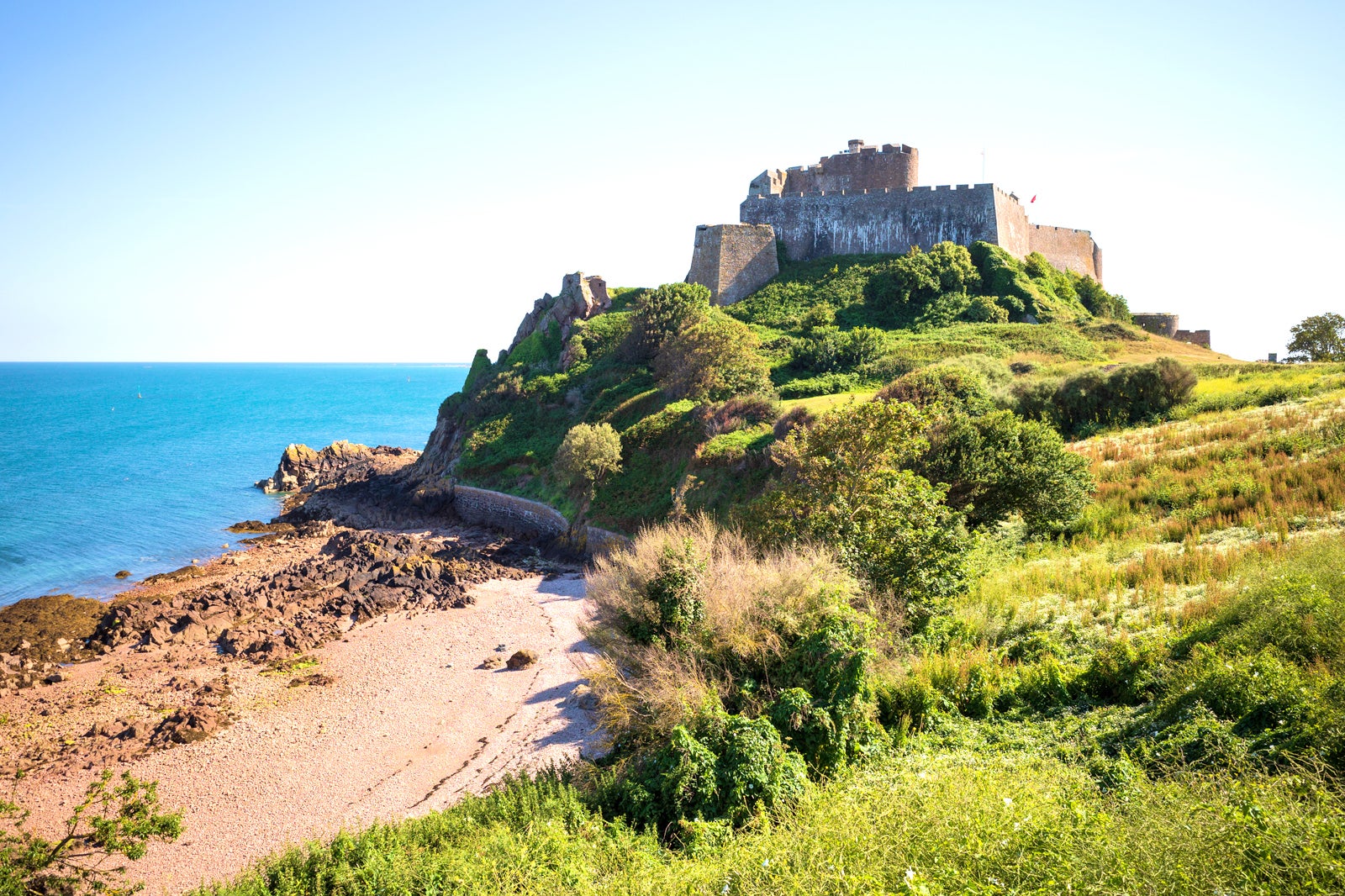 Mont Orgueil Castle is a medieval landmark overlooking Gorey Harbour on the east coast of Jersey. It goes by several names – Gorey Castle in English and lé Vièr Châté by Jèrriais-speakers – but everyone agrees that it's one of the most impressive sights on the island.
Built in the 13th century but improved over the centuries out of fear of French invasion, this maze-like castle has a long and fascinating history that you can learn on a tour of the secret network of staircases. The views from the ramparts are especially impressive. You'll be climbing a lot of stairs so wear comfortable clothing and sturdy shoes.
Location: Castle Green, Gorey, St Martin JE3 6ET, Jersey, UK
Open: Friday–Sunday from 10 am to 4 pm (closed Tuesday–Thursday)
Phone: +44 (0)1534 853292
3
Plemont Bay
Explore the nearby caves at high tide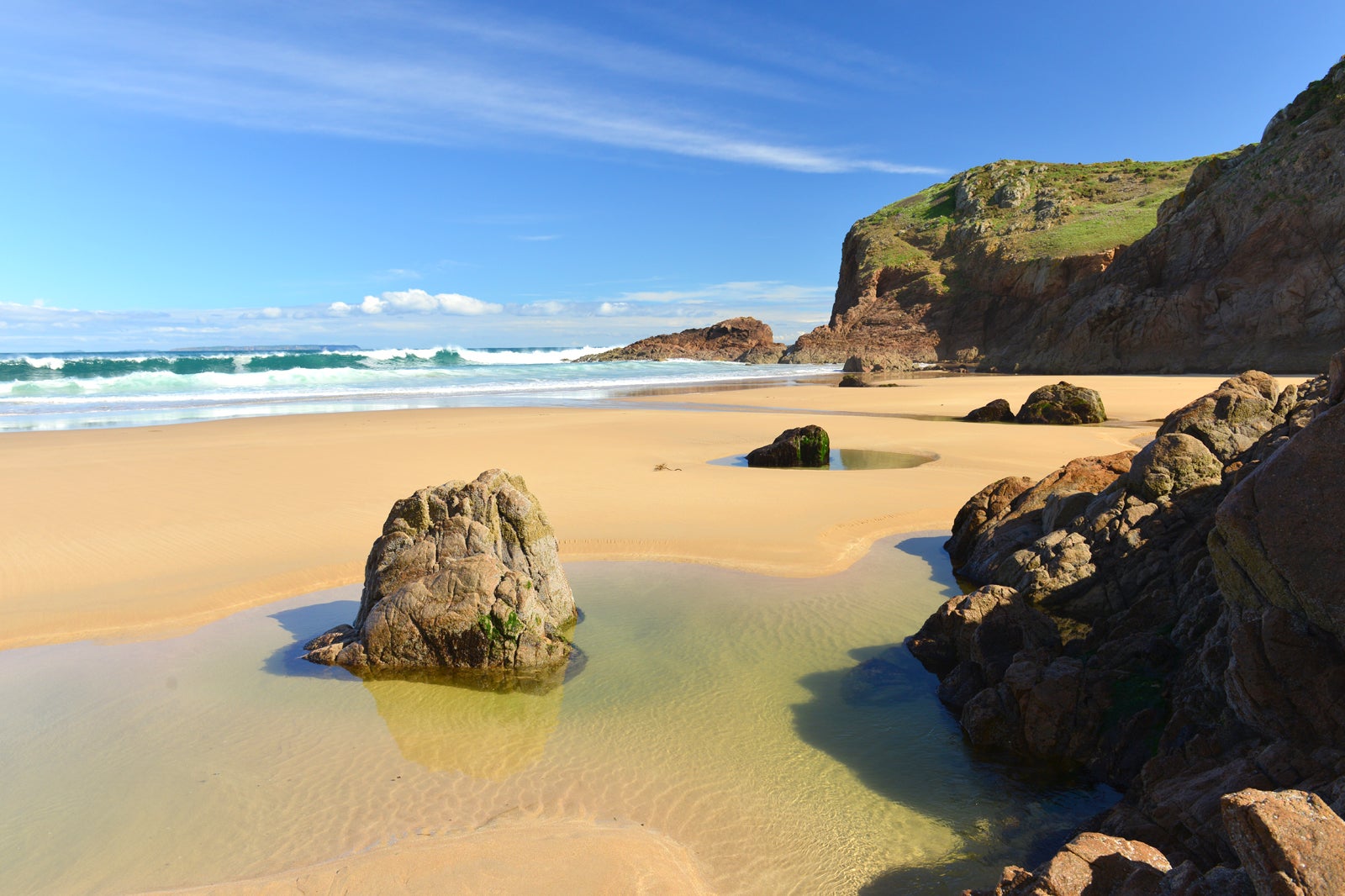 Couples
Photo
Budget
Adventure
Plemont Bay is a somewhat hidden beach on the rugged, north-western coast of Jersey. Surrounded by tall cliffs and constantly hit by crashing waves, the beach is a favourite with couples and surfers. At low tide, you will find plenty of golden sand to lounge on, while at high tide the beach is mostly submerged. Take this opportunity to rent a kayak and explore the many caves on either side of the bay. If you like to explore, take a walk to Grosnez Castle, the Norman castle ruins on the west side of the beach.
To reach Plemont Bay, take bus number 8 from most places on the island. The beach is patrolled by lifeguards from May to September.
Location: Plemont Bay, Jersey, UK
4
Le Petit Train
A miniature train ride that's fun for families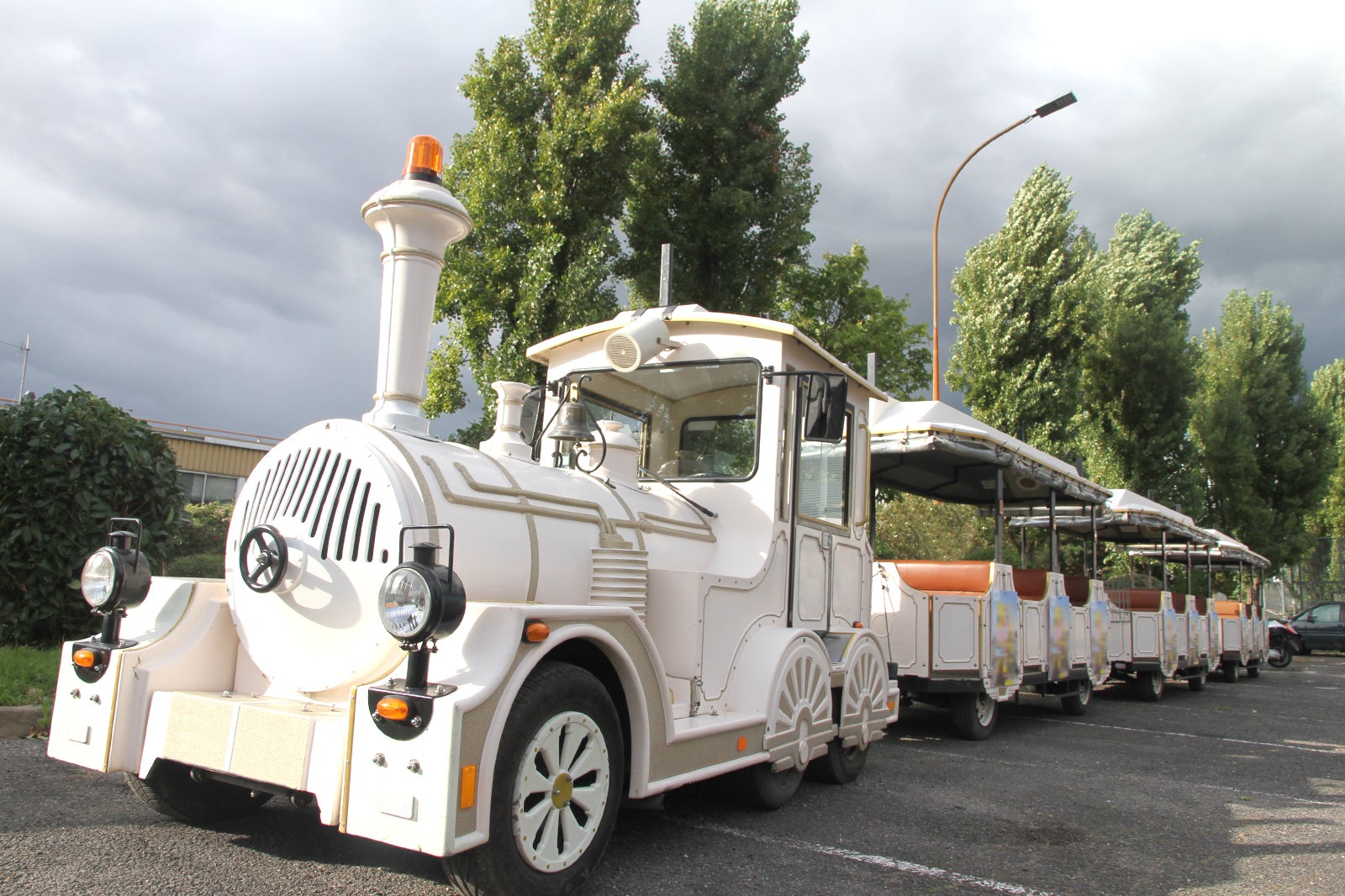 Le Petit Train is a fun way to travel from Saint Helier to Saint Aubin, across Saint Aubin's Bay. The trains delight youngsters, making the 35-minute journey a fun family activity in Jersey. During the ride, there is a commentary explaining the sights along the way.
There are actually 2 trains, which cross each other plying their route back and forth, from Liberation Square in Saint Helier to Saint Aubin Parish Hall. You can buy a ticket as you board and children under 5 travel for free.
Location: Liberation Square, St. Helier, Jersey, JE2 3QA, UK
Open: Daily from 10.30 am to 4.30 pm
Phone: +44 (0)1534 633443
5
La Rocque Harbour
Go rock-pooling at low tide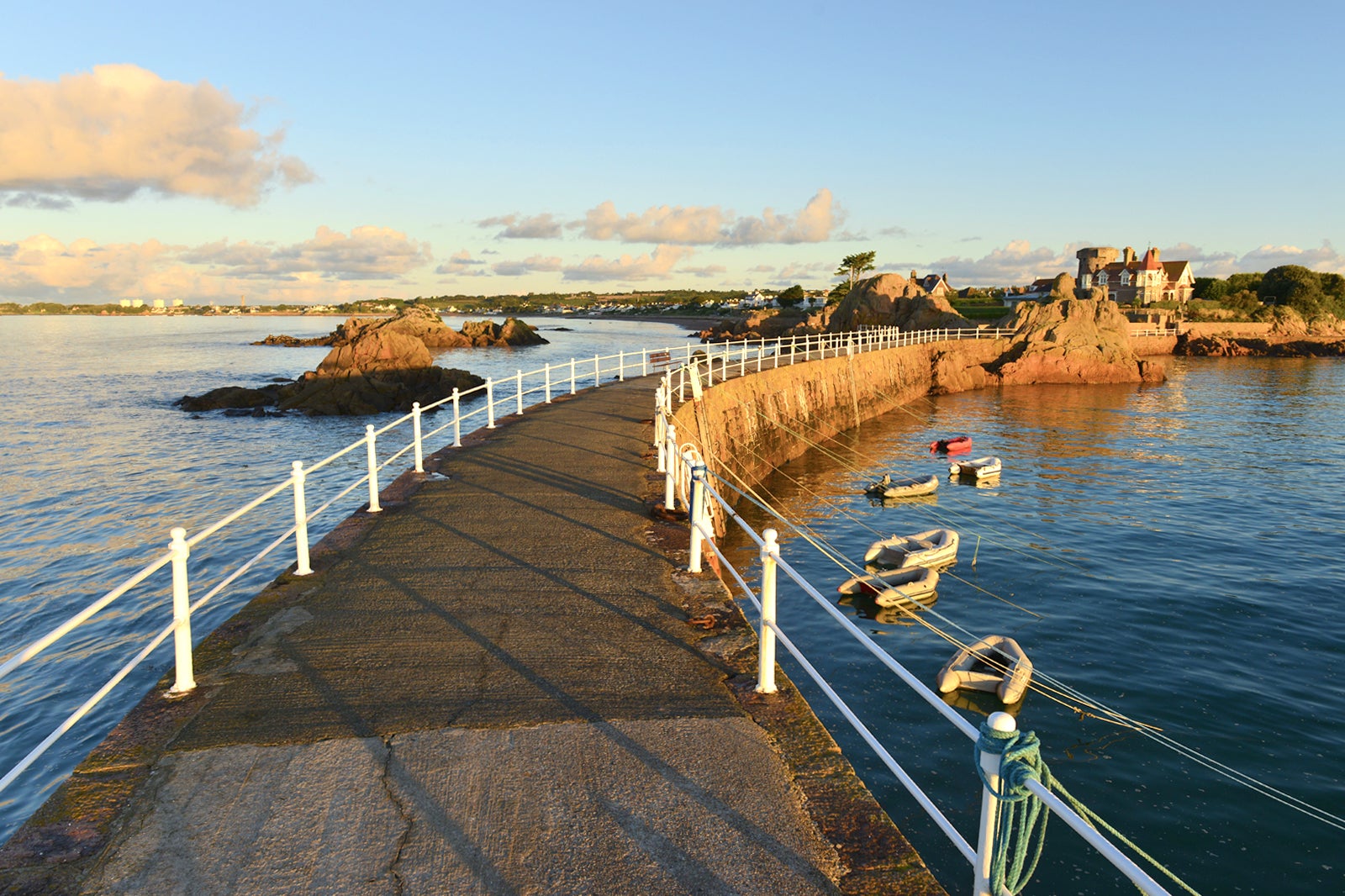 Couples
Families
Photo
Budget
Adventure
La Rocque Harbour is a small bay found on the coastal road between St Helier and Gorey on the southeastern tip of Jersey. Consisting of a small pier, a sandy beach, and plenty of exposed rocks, it's one of the best places to go rock pooling – you'll find plenty of crabs in the water holes.
Less crowded than many other beaches on the island, La Rocque Harbour is a great spot to escape the crowds and enjoy a relaxed day on the sand. There's a stall next to the beach selling food and drinks.
Location: La Grande Route des Sablons, Jersey, UK
6
Jersey War Tunnels and underground hospital
Learn about life during wartime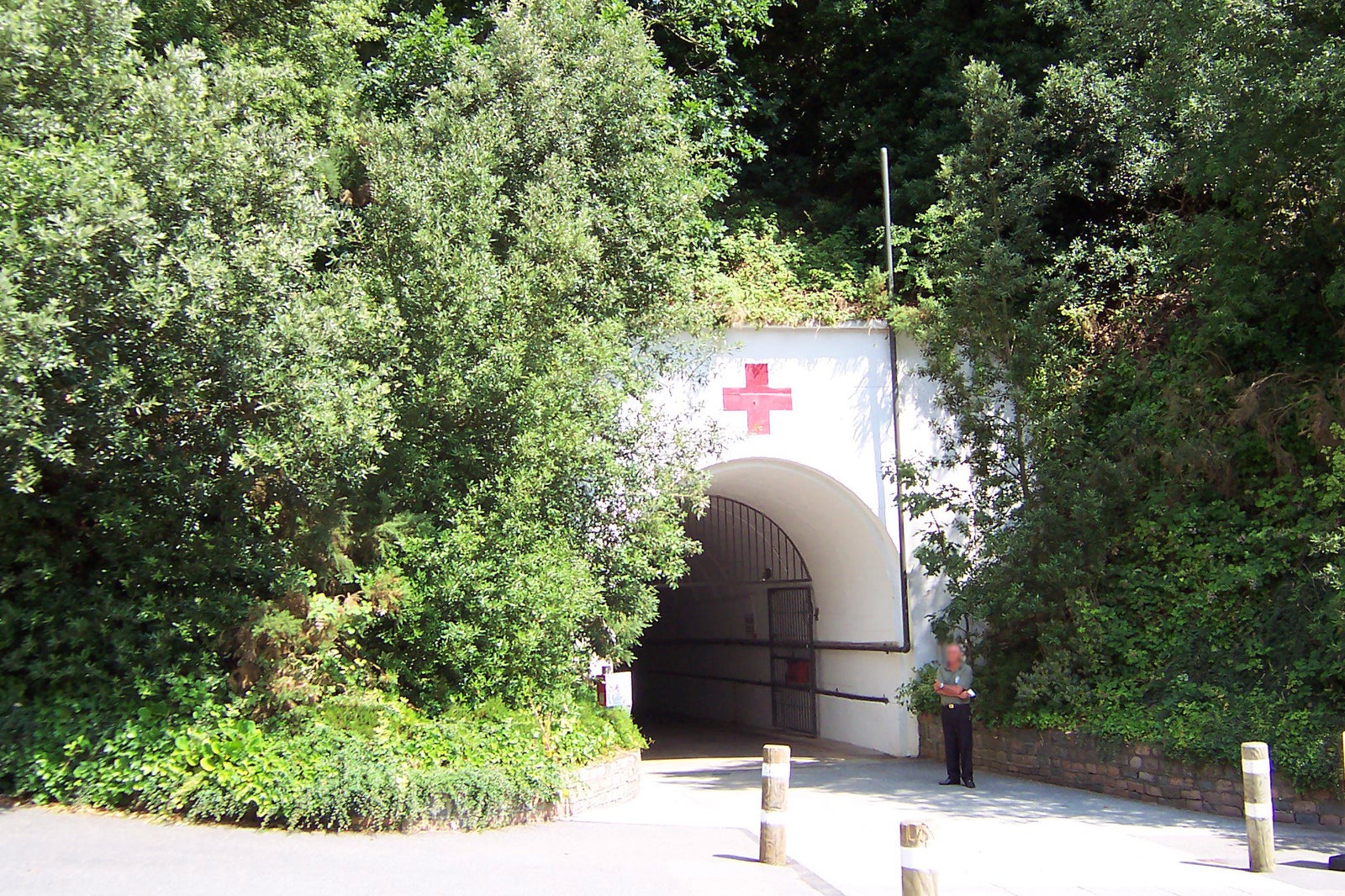 Jersey's military history is best explored at the Jersey war tunnels that were built by invading Nazis during World War II. This tour offers a fascinating – at times harrowing – look at life for the inhabitants of Jersey during the German occupation of the island.
Learn about how the islanders had to ration during times of food shortages, and how the untamed spirit of locals managed to outlast the occupation. As well as exploring the military tunnels, families will enjoy testing their wits in a war-themed escape room, while the Garden of Reflection is a place for more sombre reflection on the stories learnt during your visit.
Location: Les Charrières Malorey, Jersey JE3 1FU, Jersey, UK
Open: February–October: daily from 9.30 am to 5.30 pm. November: daily from 9.30 am to 3 pm (closed December–January)
Phone: +44 (0)1534 860808
photo by Simon Allardice (CC BY 2.0) modified
7
North Coast Cliff Path
Hike one of the UK's finest coastal walks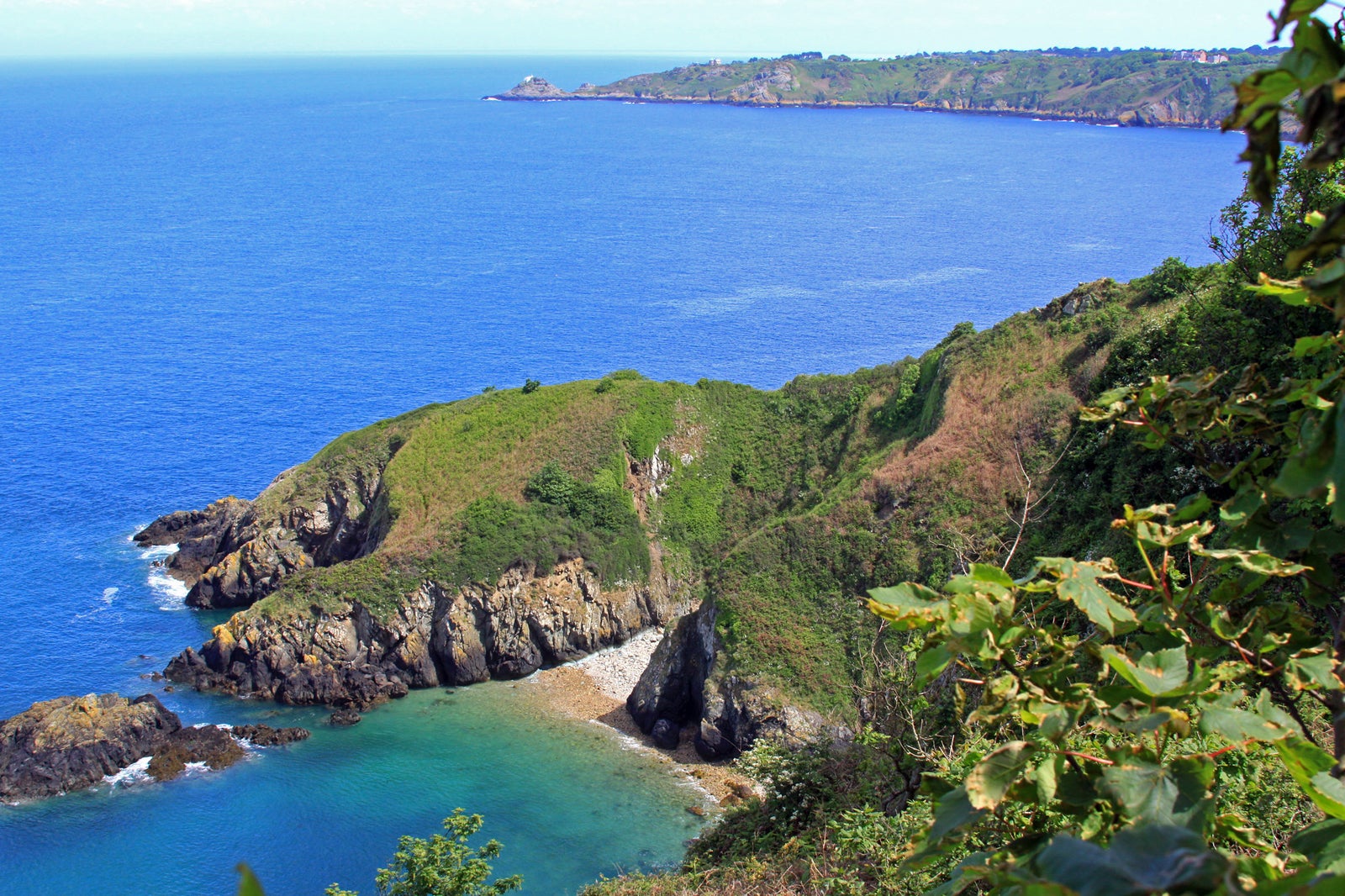 Unusual
Photo
Budget
Adventure
Starting from Trinity village of Trinity, the north coast hiking trail is one of the most dramatic walks in Jersey. The walk takes you along several coastal ridges and past several beautiful bays, including Boule Bay, Bonne Nuit, and St John's Bay. You can take bus no 4 to reach the north coast from Jersey's main towns in the south of the island.
Make time to visit the Devil's Hole – a collapsed cave that seems to whistle from the waves that are sucked between the rocks – close to Sorel Point. This natural phenomenon is looked over by a bronze statue on the coastal path.
photo by Andy Hawkins (CC BY-SA 2.0) modified
8
Elizabeth Castle
Enjoy picturesque panoramas and military history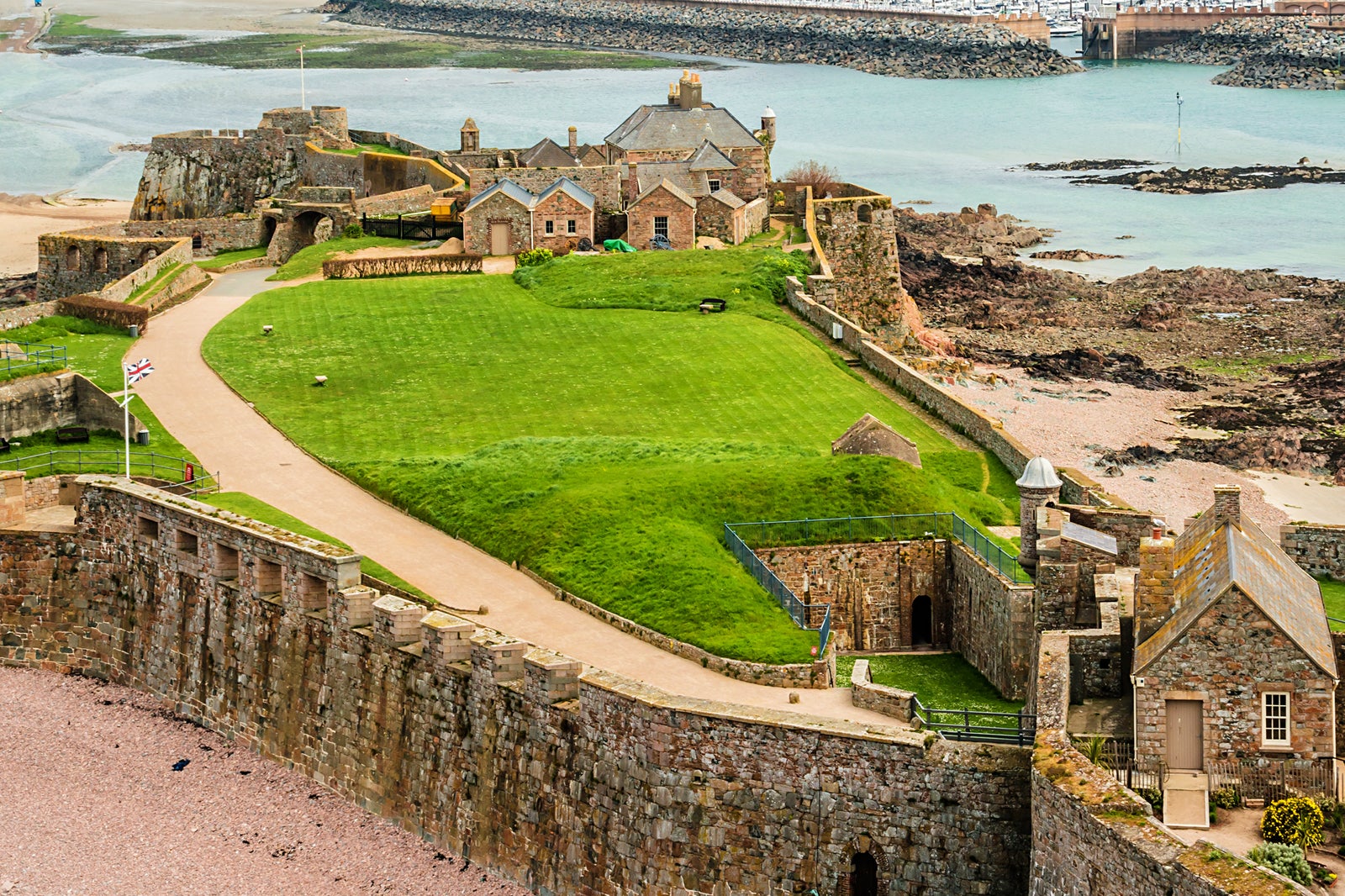 Elizabeth Castle is one of the most important and breathtaking sights in Jersey. The fortress is located just off the coast of St Helier and is accessible both by foot (during low tide) and by ferry. The ferry ride takes about 15 minutes.
You can explore the 16th-century walls and enjoy stunning views of the sea and Jersey coastline from above. For history buffs, there are centuries worth of memorabilia and fascinating displays in the Regimental Museum of the Royal Jersey Militia inside the fortress. Visit Elizabeth Castle on a Sunday for a rare look back in time as historical interpreters recreate the garrison of 1781 during the Battle of Jersey.
Location: St Aubin's Bay, St. Helier, Jersey JE2 3NU, Jersey, UK
Open: March–November: daily from 10 am to 5.30 pm (closed December–February)
Phone: +44 (0)1534 723971
9
VAT-free shopping in St Helier
Prices are typically lower than elsewhere in the UK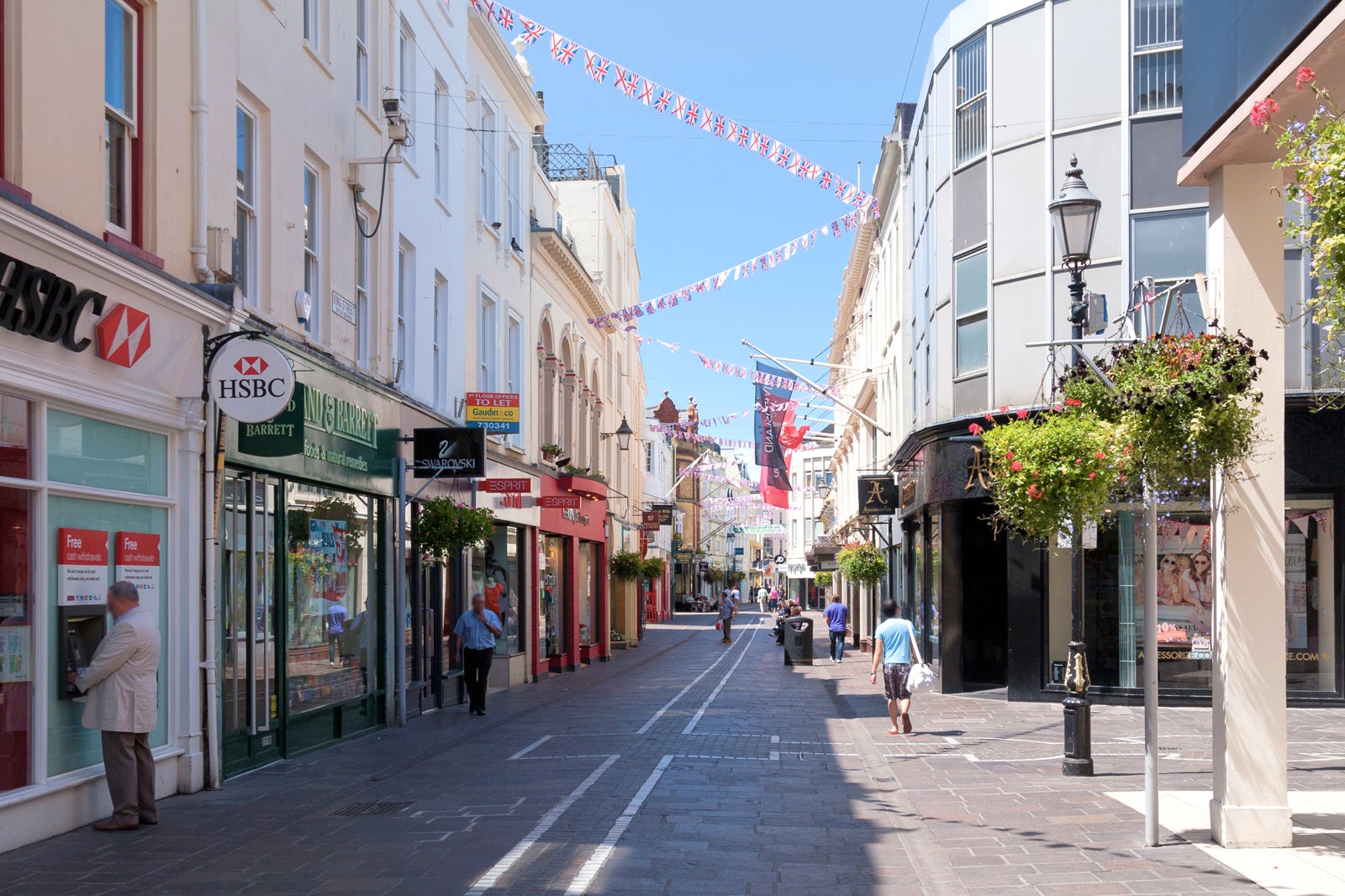 The best shopping in Jersey can be found in St Helier, the island's capital and largest town. Liberty Wharf shopping arcade is an excellent place to browse high street shops with plenty of cafes and restaurants for refreshments. For high-end goods, check out the Voisins Department Store on King Street. For fresh produce, check out the wonderful St Helier Central Market, which comes alive in the summer months.
Due to its special status within the United Kingdom, purchases in Jersey aren't subject to VAT, meaning you can often save 20% on like-for-like goods when compared to shops on mainland UK – worth considering when stocking up for special occasions.
photo by Danrok (CC BY-SA 3.0) modified
10
Jersey oysters
Jersey is known for fantastic seafood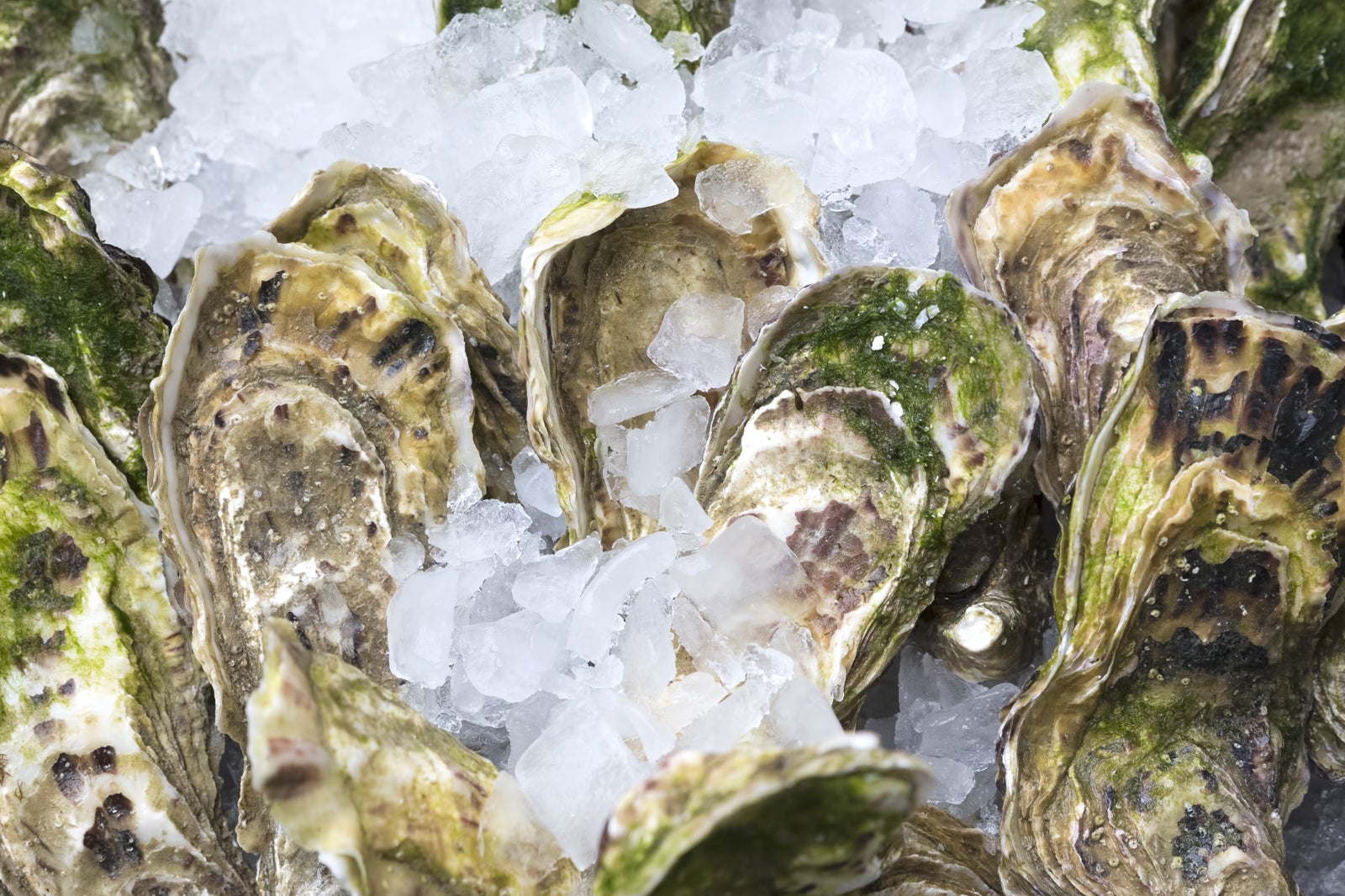 The rough seas around Jersey are the main reason why the island's oysters are so highly praised. You will find these delicious shellfish on the menu of many restaurants around the island. Many beaches even have dedicated oyster stalls selling shucked oysters by the half dozen.
As a self-sufficient island for centuries, Jersey has plenty of unique ingredients and dishes to enjoy. Don't miss the chance to sample Jersey royal potatoes or delicious Jersey ice cream during your stay.
Back to top