Saint-Malo Travel Essentials
Useful Information to Help You Start Your Trip to Saint-Malo
Our Saint-Malo Travel Essentials lays out the essential information you need to help you plan your trip to one of the most popular destinations in Brittany. No matter how frequently you travel, some questions will always need answers: What's the weather like? How can I get from Dinard–Pleurtuit–Saint-Malo Airport to my hotel? What currency and type of plug do I need?
We have all these answers plus other basic info about the best time to go, getting there, getting around, and a few useful travel tips. You'll also learn about the most popular landmarks in Saint-Malo such as Saint-Malo Old Town, Fort National, and St. Vincent Cathedral. It's all compiled in this Saint-Malo Travel Essentials. After going through this short and easy-to-read guide, you'll be a little more prepared to start your trip to Saint-Malo.
1
When is the best time to travel to Saint-Malo?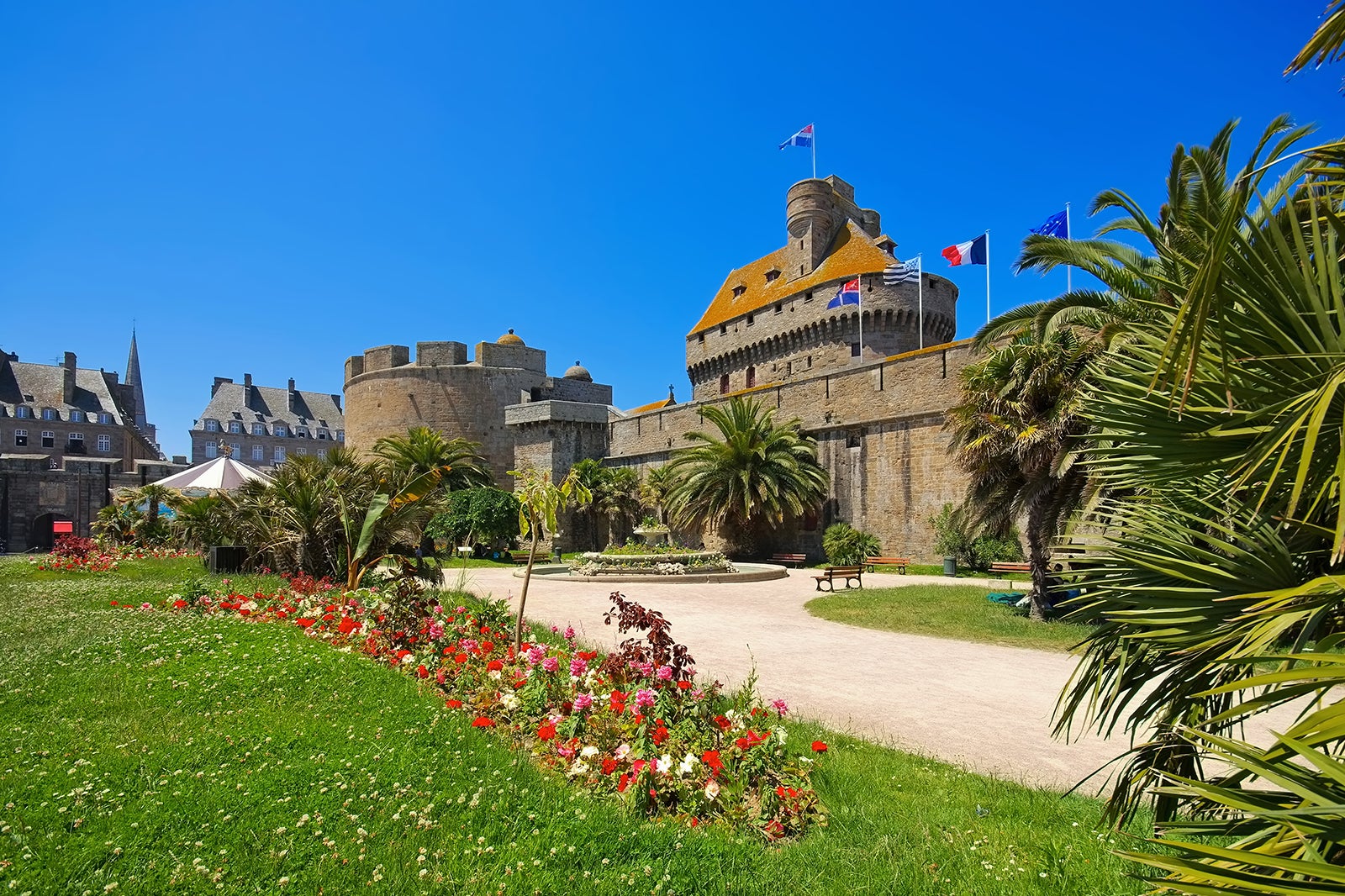 Saint-Malo has a maritime-oceanic climate with mild, humid summers and chilly winters. Average temperatures range from 4°C in winter to 18°C in summer.
With an average of 13 wet days per month, the rainiest time of the year is between October and January. You can expect between 8 and 10 days of rain the other months. Snowfall is scarce but can happen in the heart of winter.
With average temperatures over 15°C, June–September is the warmest time of the year. Extremely hot days are rare and the highest temperature recorded in Saint-Malo was 39.4°C.
The peak season is June–September, when you can expect the best weather conditions but higher hotel rates and more crowds. If you plan to visit Saint-Malo around this time of the year, it's best to book far ahead.
You can also choose to visit Saint-Malo in May or in October, just before and after the peak season. The temperatures are lower than during summer, but you'll find good hotel deals and smaller crowds at places of interest.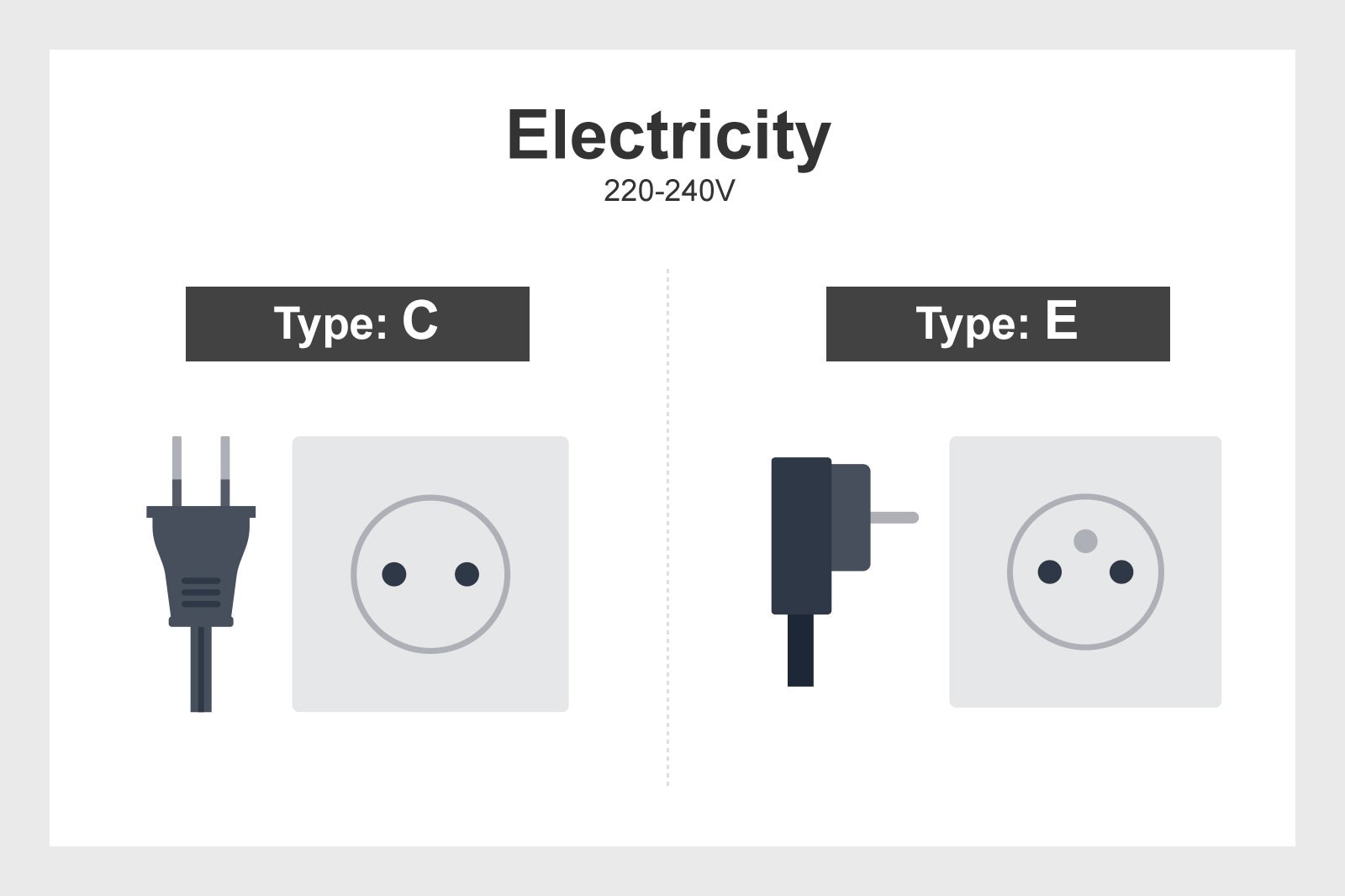 Plug type: C and E
Electricity: 220-240 V
Currency: Euro (€)
International dialling code: +33 2 23, +33 2 99
Emergency telephone number: 112
3
How to get to my hotel in Saint-Malo?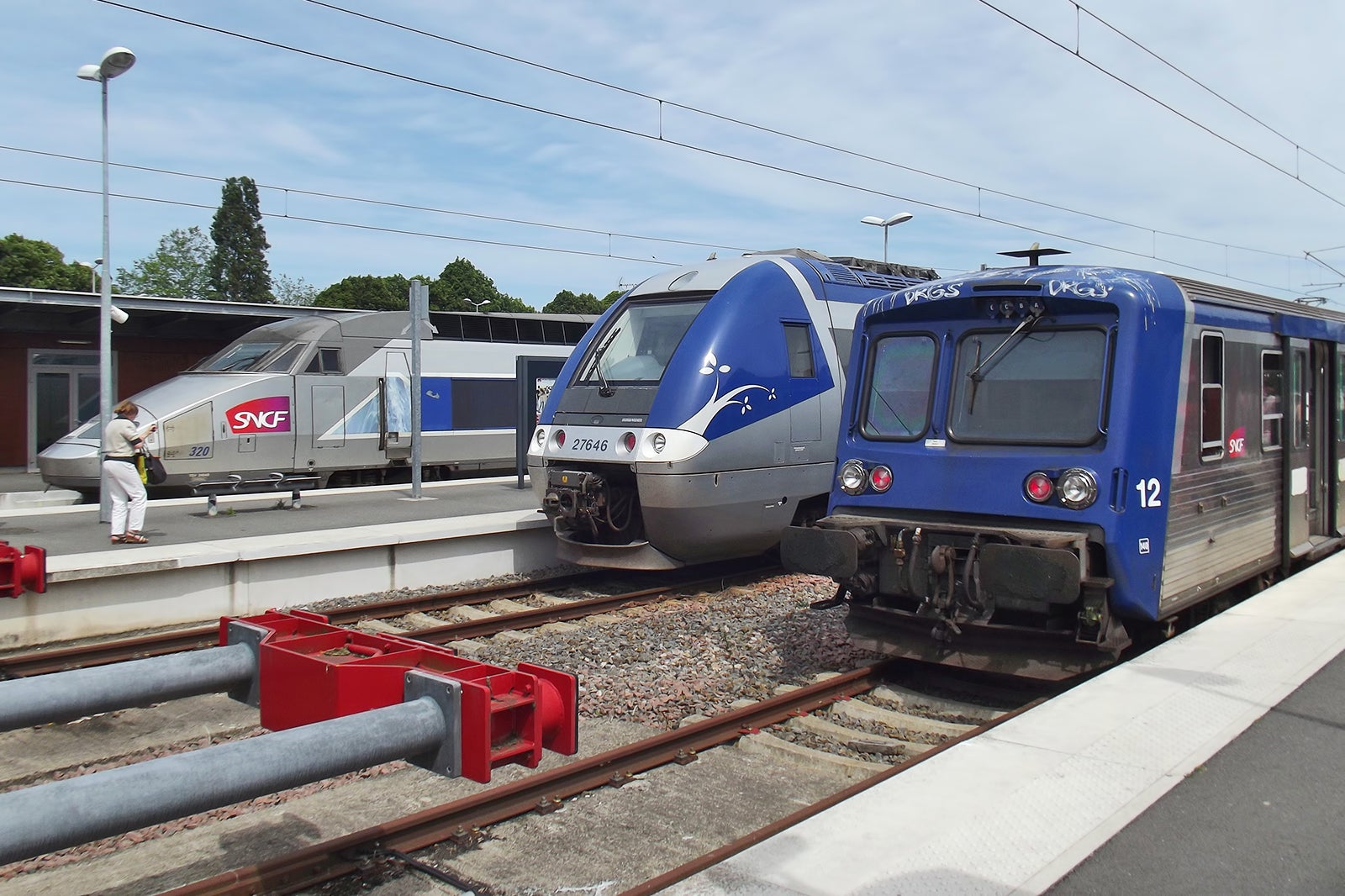 Getting to Saint-Malo requires a mix of transport modes. By plane, the closest airports are in Nantes, Rennes, and Dinard. From there, you can get to Saint-Malo by train, shuttle bus, or taxi. The train is the most popular and most convenient mode of transport to get to Saint-Malo.
If you travel by car, the D137 is the main departmental road serving Saint-Malo from Rennes. The driving time between these cities is about 1 hour.
If you live in England, you can also get to Saint-Malo by ferry from Portsmouth. The journey takes about 11 hours.
Getting to Saint-Malo by plane
Saint-Malo is a port city of medium size and therefore doesn't have its own airport. The 3 closest airports are Dinard (DNR), Rennes (RNS), and Nantes (NTE), respectively 8 km, 68 km, and 168 km away. A transfer by train, bus, or rental car is necessary if you land in Nantes or Rennes. Note that Dinard–Pleurtuit–Saint-Malo Airport is served only by private flights.
Getting to Saint-Malo by train
One of the most popular ways of getting to Saint-Malo is by train. Different options include:
High-speed train (TGV – Train à Grande Vitesse) from Paris Charles de Gaulle Airport to Rennes, then a connection by regional train to Saint-Malo.
There's also an airport shuttle bus that serves the Montparnasse train station in Paris, from where you can get a direct TGV train to Saint-Malo.
If you're on a budget, you can also get there by standard train from almost anywhere in France. It's cheaper than TGV, but also a lot slower.
Once at the Saint-Malo train station, taxis, rideshares, and public buses are available to transfer you to your hotel.
photo by Smiley.toerist (CC BY-SA 3.0) modified
4
How to get around Saint-Malo?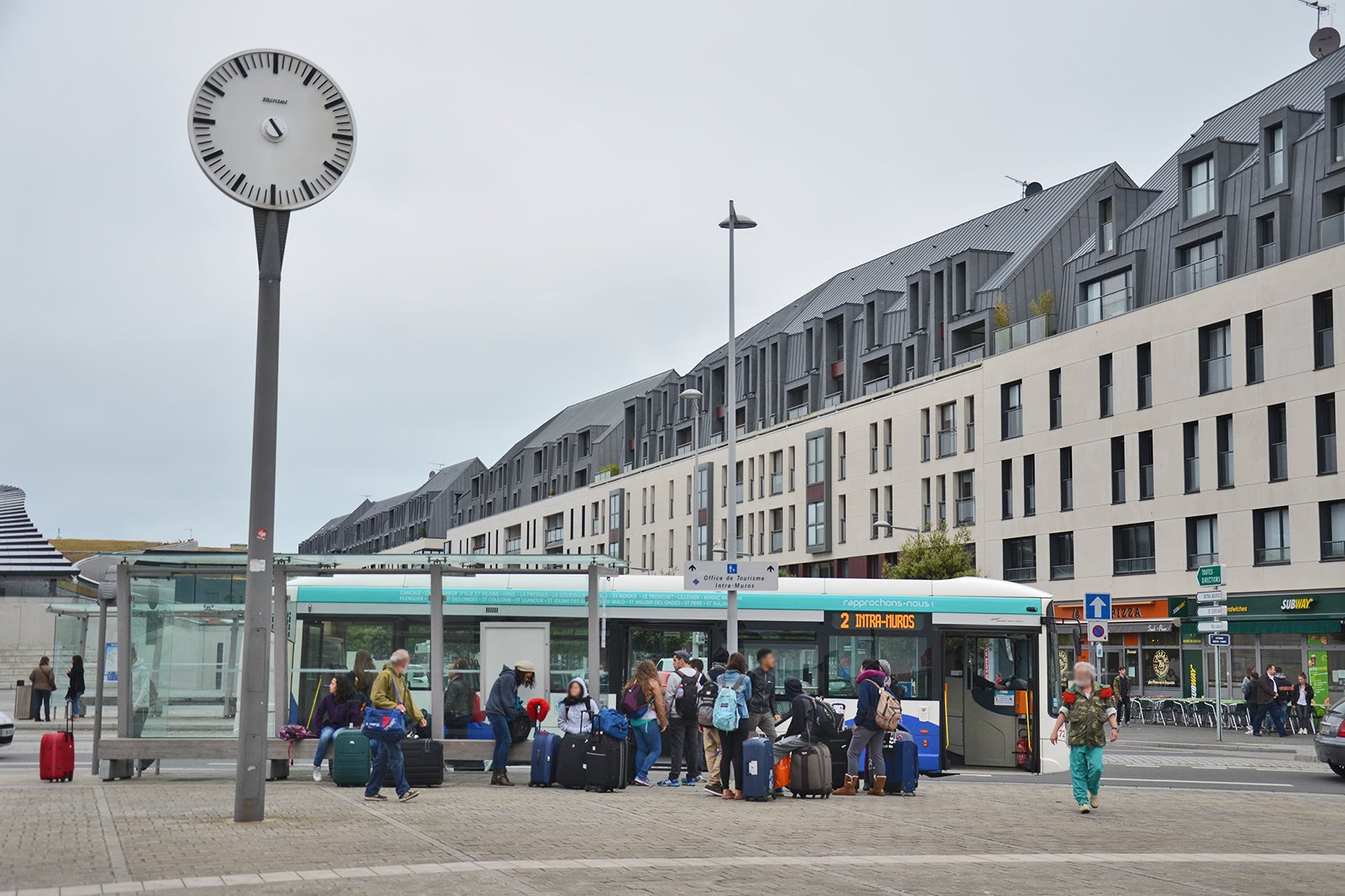 Travel tips
Saint-Malo's city centre covers an area of about 4 square kilometres. It's therefore easily walkable, especially in Saint-Malo's walled city, which is mostly pedestrianised. The Old Town is home to landmarks such as Fort La Reine, Saint-Vincent Cathedral, and the Demeure de Corsaire (the corsair's house), just to name a few. It's also surrounded by beaches. The city centre features a great range of shopping, dining, and nightlife entertainment venues.
For longer distances, depending on your budget and taste, you can get around by taxi, rideshare, public transport, or rental car.
Taking a taxi in Saint-Malo
Allo Taxis Saint-Malo (+33 (0)2 23 18 11 81), Taxi St. Malo ABC (+33 (0)6 10 03 18 86), and Taxi Jordan (+33 (0)7 86 25 69 70) are just a few of the taxi companies that operate in Saint-Malo. You can also easily find taxi lines in front of hotels and main attractions outside the walled city. It's easy to hail one on the street, too.
Convenient yet rather expensive, getting around Saint-Malo by taxicab is not your best option if you're on a budget, although a taxi ride may be your only option to get back to your hotel after a late night. Note that tipping for taxis in France is not necessary, but if you're happy with your driver's service, you can give an extra 5% or 10% of the fare. In France, all taxis are obliged to accept payment by Visa and MasterCard.
Uber is the main ridesharing app used in Saint-Malo. Uber rates are slightly cheaper than standard taxicabs.
Travelling by public transport in Saint-Malo
St Malo Agglo Transports (MAT) is the main public transport company operating in Saint-Malo. Its bus network features 16 lines that cover 18 towns in the historical Pays de Saint-Malo (Saint-Malo county). The main bus terminals can be found at the train station and on Quay Saint-Vincent outside the walled city.
A wide range of ticketing options is available, from 1-way ticket to single- and multiple-day passes. A single ticket is valid for 1 hour and 30 minutes on the bus. You can buy tickets directly on the bus with the exact amount of cash. Public transport is free for children under 4 years when they're accompanied by a paying adult. MAT buses are wheelchair-friendly.
Renting a car in Saint-Malo
Renting and driving a car is not the best idea for getting around Saint-Malo as much of the Old Town is pedestrianised. Public transport is convenient enough to get to nearby landmarks and attractions, and almost everything is within walking distance.
Cycling around Saint-Malo
Hiring a bicycle is a cool way of exploring Saint-Malo – if the weather allows. The city features over 50 km of cycling lanes and routes, with trail maps available online. Note that cycling in the walled city is possible but not practical due to the cobbled lanes and the crowds.
You can hire a bike from rental companies such as Loc'Malouine (+33 (0)6 11 60 19 30), Les Vélos Bleus (+33 (0)2 99 40 31 63), Gyro Malo (+33 (0)6 63 55 51 44), among others.
photo by Florian Fèvre (CC BY-SA 4.0) modified
5
What are the main annual events in Saint-Malo?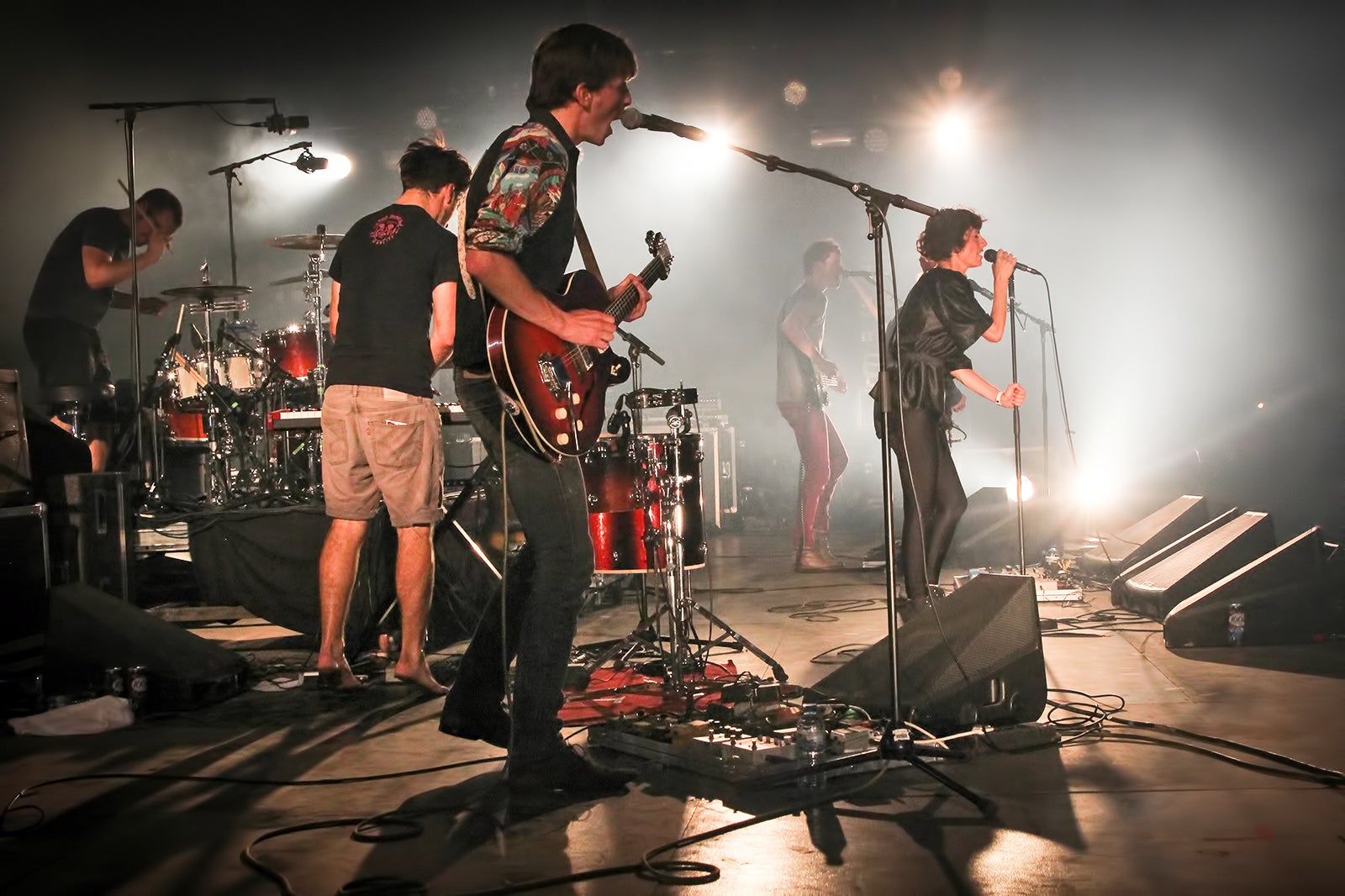 Etonnants Voyageurs (Amazing Travellers)
May
Saint-Malo's international book and film festival held since 1990. The event attracts editors and famous writers for exhibitions, film screenings, workshops, and discussions. Each year has a different theme.
Where: Various places throughout Saint-Malo
La Route du Rock
August and February
A music festival first held back in 1991. In 2006, the festival became biannual with the addition of a winter edition. It showcases French and international bands playing all styles of rock music.
Where: Various places throughout Saint-Malo
Quai des Bulles Festival
October
A festival dedicated to the comic strip, with over 400 cartoonists and scriptwriters participating and sharing their passion for storytelling through drawing. Each aims for a prize at this popular festival.
Where: Palais du Grand Large
photo by Popaddict (CC BY-SA 3.0) modified
6
What are the main landmarks in Saint-Malo?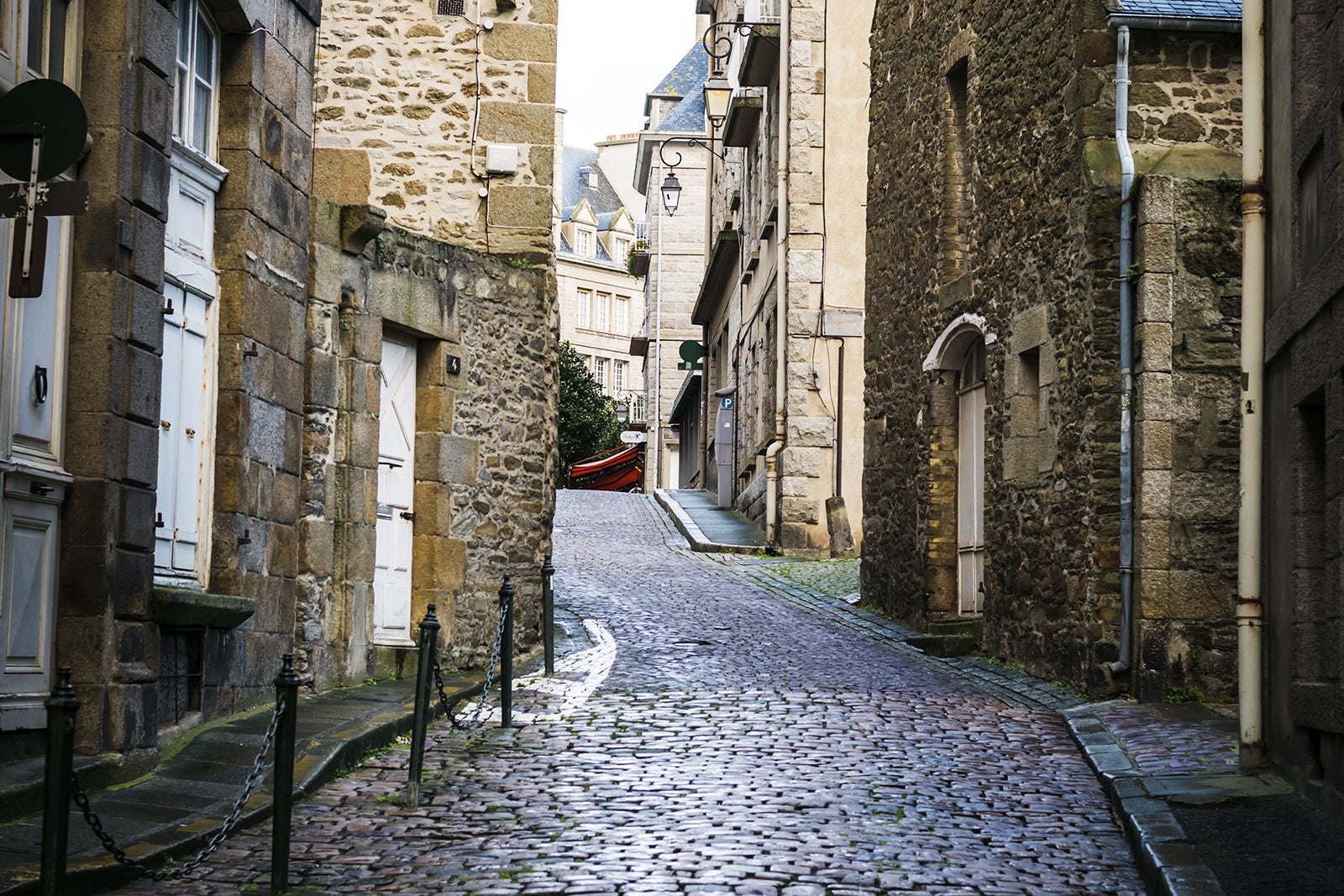 Saint-Malo Old Town
Dating back to the 6th century, Saint-Malo's Old Town was almost entirely rebuilt after World War II. It's filled with historical sites to visit but also lined with arts and crafts boutiques and quaint bars and restaurants.
Fort National
A late 17th-century stronghold on the tiny Rock Islet, 300 metres north off Saint-Malo. Open to visitors from June to September, it's worth the trip for the beautiful views of the coast and Saint-Malo Old Town.
Les Ramparts de Saint-Malo
A masterpiece of military architecture, originally built in the 12th century then upgraded in the early 18th century. The 2 km walkway offers views of beaches and islands and is lined with houses and statues of famous Saint-Malo figures.
St. Vincent Cathedral
A Roman Catholic cathedral founded in the 12th century and dedicated to Saint-Vincent of Saragossa. Entirely restored after World War II, it's especially famous for its pipe organ, stained glass, and a variety of relics.
Back to top